Ladies and gents,
Dissatisfied with your performance? Your endurance not what it used to be? Wish you could thrust your javelin harder, perform better, and last longer on the battlefield? The limited time Demonic Necklace can help! Scavenged straight from the bowels of hell, this prized medallion will give you the extra oomph to last all night... fighting battles with the Fomors. Really! There's all sorts of science to back it up!
So What's It Do?
All joking aside, the Demonic Necklace uses demonic energy to alter a weapon's primary stat and make it equivalent to the +10 version of the weapon. The conversion only works when both items are equipped, and the demonic energy powering the necklace runs out after 30 days.
Item Name: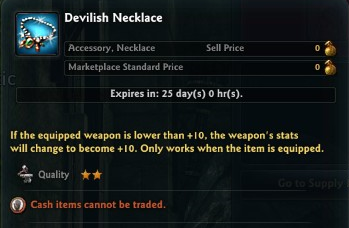 Stats: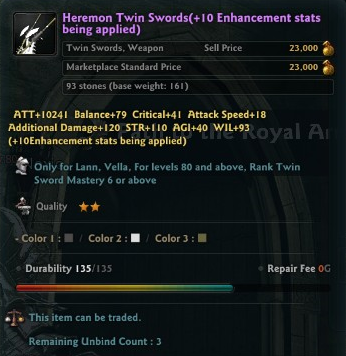 Notes:
For 30 days, makes the equipped weapon's primary stat equal to the +10 version of the weapon. Must have the Demonic Necklace equipped.
Sale Period:
9/25 - 10/8
Location:
Supply Depot
Price (NX):
16,900 (x1) Demonic Necklaces are only on sale from September 25th through October 8th. Put one on, and the next time you run into a Fomor, you'll do it with an ultra-confident swagger.