Mercenaries,
A creature of unimaginable evil has clawed forth from beyond the grave, and it doesn't look too thrilled to meet you. In fact, the Pantheum Executioner has made a vow to end your pitiful existence. Can you weather the hail of hellfire and brimstone and give this undead anomaly a proper death?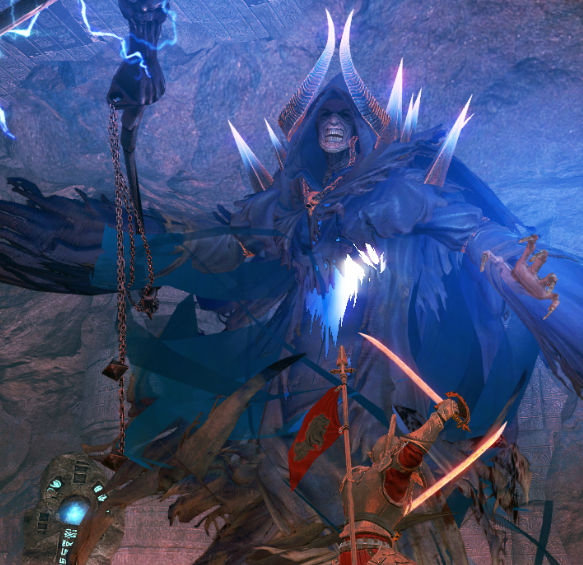 SHADOW OF DEATH
This New 8-player raid will be available through the Malina Docks Twilight Desert battle mission board. The Pantheum Executioner alternates between 3 deadly phases throughout the fight, so you'll have to change your strategy on the fly to survive.
COMPLETION EVENT
Upon successfully completing the Pantheum battle, you'll receive a [Shadow Shard]. You can exchange 3 Shadow Shards for 1 [Grim Reaper Box], which contains consumables and various other rare NX items
Event Name Pantheum Completion Event Event Date 8/7 ~ 8/20 Event Description Defeat Pantheum in the Shadow of Death raid and obtain a Shadow Shard. Gather 3 or more Shadow Shards and talk to Tristan to obtain the [Grim Reaper Box]. Event Rewards -Party Revival Feather
-Fine HP Potion (Gift)
-Superior HP Potion (Gift)
-Merc Recovery Potion (Gift)
-Divine Blessing Stone (Gift)
-Grim Reaper's Horn Bugle
-Executioner's Scythe Segment
-Executioner's Thorn
-Lightning Fragment Face the Pantheum Executioner on August 8th and prove you've got what it takes to purge evil from the world! There are some great rewards in store for you if you survive...