Mercenaries,
Itís time to try your hand at a game of chance! All you need is a
Bingo Ticket
and a blessing from lady luck to win some great prizes. Starting
May 22nd
, get your Bingo-stampiní self over to the Colhen Inn for the Vindictus Bingo Event.
Event Objective:
-The numbers in the columns of a Bingo board are generated at random
-Players are provided with a Bingo Ticket once per day by the Strange Traveler
-Complete a line of Bingo to receive a prize
-The event ends on 6/4/2013
Bonus Objective:
-Defeat the final bosses of either Crescent Moon Island or Ship Graveyard
-Receive 3 Bingo Tickets(Only available once per day)
-Events on 5/25 (Sat) & 6/1 (Sat)
Rewards:
-1 Bingo: 1 random consumption item
-3 Bingos: Brooch Epaulet (15)
-5 Bingos: AP 1000 Capsule
-8 Bingos: Enhancement Rune
-Blackout: Enchant gachapon with a success rate of 100%
If you're down on your luck and need a helping hand, check out these Bingo boosters in the Supply Depot that are sure to up your game and put you back on the fast track!
With NX Prepaid, You can purchase the Bingo Shaker directly from the Bingo Board UI! Eliminate the hassle of browsing through endless merchandise and go directly to the source.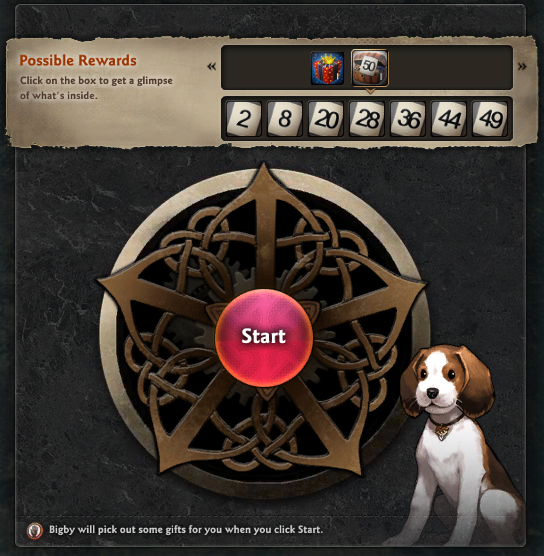 Cash Item #1:
-Special Bingo Box
Sale Start Date:
-May 22nd, 2013
Sale End Date:
-June 4th, 2013
Price:
-1490/13000 NX (1/10)
Purchase Option:
-Supply Depot:
(Prepaid & NX Credit)
Item Info:
-Randomly obtain a number between 1 to 50 that you donít already have.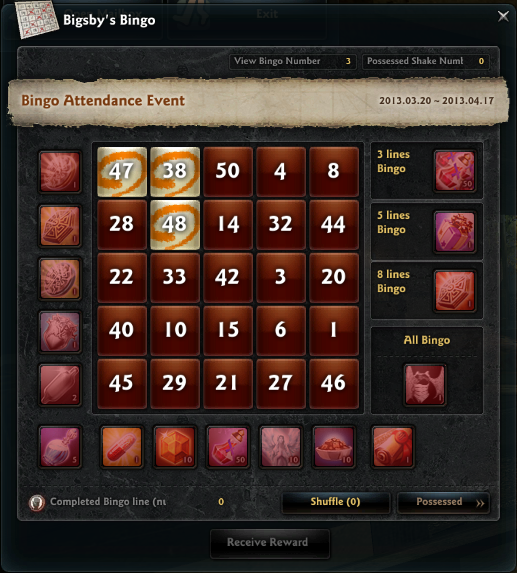 Cash Item #2:
Bingo Board Shaker
Sale Start Date:
-May 22nd, 2013
Sale End Date:
-June 4th, 2013
Price:
-990 NX
Purchase Option:
-Bingo Board UI
Prepaid only)
-Supply Depot
Prepaid & NX Credit)
Item Info:
An item that changes the number arrangement of the bingo board. (With 10 numbers or less)
Bingo Notice:
Bingo numbers won't be placed into the item inventory, instead all numbers will be directly managed on the Bingo Board UI. Also, all acquired Bingo numbers will disappear once the Bingo event ends. The same rules apply for all purchased cash items(Special Bingo Box & Shaker).
For this reason, players must use all the available numbers on the board and collect any rewards before the Event ends. Any player who fails to collect or retrieve their winnings will lose out on the reward. So please be extra careful, use your numbers and collect your winnings!