Mercenaries,
Do you need a little change? regret spending AP in skills you don't find useful? If so, we got the perfect remedy for you. Starting
May 22nd
, the Supply Depot will be stocked full of the new
AP Package
. It contains all the necessities you need to revitalize your character into that perfect soldier.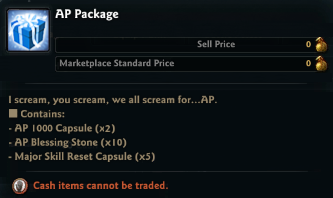 Package Contains:
-Skill Reset Capsule (5)
-AP Blessing Stone (10)
-AP 1000 Capsule (2)
Sale Price:
-12900 NX
Sale Period:
-May 22nd, 2013 ~
June 4th, 2013
Also with Season 2, Episode 2 just right around corner, this is the perfect opportunity to prepare and ready yourself for the next upcoming content…
Twilight Desert
. So head over the Supply Depot before June 4th and check out the new AP Package.