Greetings, Mercenaries!
Please join us for a Halloween Party for the ages. There are several activities to make your Halloween season a blast!

Pumpkin Pinata
Visit the Strange Traveler at the Colhen Inn. This mysterious pumpkin-headed visitor will give you a battle quest to visit the Perilous Runs for the Two Pumpkins Battle. Upon creating a joining a raid group, you will find two giant pumpkins hanging from a spinning contraption.
Your job is to pick up pumpkins and hurl them at the orange pumpkin.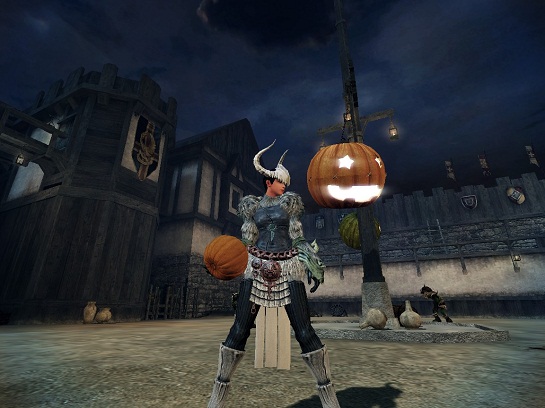 Of course, you didn't think there wouldn't be any Fomor intervention, did you? Fomors will be there in full force trying to smash open the rotting green pumpkin. They'll also try to trip up your own progress in cracking open the orange pumpkin. Attacking the fomors will delay their progress in opening up the green pumpkin. In addition, defeated fomors will drop pumpkins for you to chuck at the orange pumpkin. Make sure your timing is right, blasting the green pumpkin counts as progress towards the Fomor team!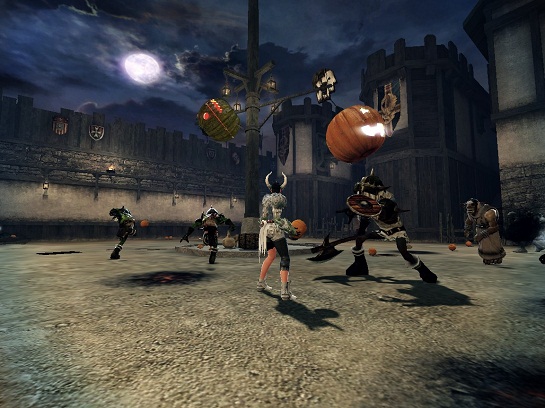 It's a race to see who can smash their pumpkin first! If you're lucky, you will win a
Mummy Hat
.
Note: you must be at least level 10 and complete Perilous Ruins Decisive Battle to participate in the Two Pumpkins battle.
Trick-or-Treating
What would Halloween be without Trick-or-Treating? It seems like there isn't much "Tricking" going on, either, as only "Treats" seem to be available. In any case, visit with the Strange Traveler in the Colhen Inn, who will ask you to acquire 15 pieces of Halloween candy. Hit up each of the residents in Colhen and demand their cache of candy. Be as surly as you wish, they'll hand it over. Once you've accumulated 15 pieces, return to the Strange Traveller and claim your new title, "The Haunted."
Pumpkin-headed Fomors
It seems that the Fomors are also celebrating Halloween! In the haunted and ransacked town of Ainle, the daily quest will contain vampires and wisps with pumpkins on their heads. Defeat 30 of these creatures and claim the title, "Pumpkin Pounder." Additionally, the end boss of the daily quest will drop candy that will display an effect over your head.
Note: you must be at least level 22 to be able to access Ainle.
No need to RSVP to these Halloween events! Logging into Vindictus is all that is needed!