Table of Contents
- Introduction to Quick Links
- Basic Quick Links
- User Control Panel Quick Links
- Miscellaneous Quick Links
Introduction to Quick Links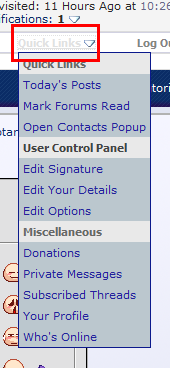 Sometimes surfing through MyMMOGames can be a hassle and you just want to see or use a particular feature of the site without jumping through so many hoops. With the 'Quick Links' feature, users can immediately access portions of the site instantly and efficiently, reducing the amount of "jumping hoops." For example, users can quickly change their signature without having to go through the Control Panel or check for all new posts of the day under the 'Today's Posts' selection. Generally, the 'Quick Links' feature focuses on several sectors of the site that most users will find the most beneficial. It is also simple to use and very intuitive and a great tool for all forum users.
If you want to learn more about using the 'Quick Links' feature or looking to gain more understanding on how each option works, then be sure to read below!
Basic Quick Links
Today's Posts
This allows users to review most new threads throughout the whole site without having to view each forum section. Threads are listed in order by the last post that was updated, showing the most recently updated thread on top. Threads are also labeled with the origin forum section to help users view that entire section if needed.
Unanswered Posts
Similar to the 'Today's Posts' option, users are allowed to review new threads throughout the whole site, but reduces the search to all threads with no replies. Again, threads are organized by their last posted time and each includes their forum section origin.
Mark Forums Read
This feature completely scans all unread threads and sections and converts them to "marked read", as if you have already read them. In detail, any unread thread would be highlighted in blue, whereas a read thread highlights in grey. Using this feature turns everything from blue to grey, interpreting as all threads were read.
Open Contacts Popup
This option opens a new window showing all online and offline contacts you have befriended through MMOGames. Moreover, users have the ability to privately message their contacts by box checking one or more names and then clicking the 'PM Users' button. In effect, the user will immediately be taken to the 'Send New Private Message' under Control Panel.
User Control Pane Quick Links
User Control Panel
Clicking on this will send users to their Control Panel, a feature that allows one to edit your personal options and has a long list of features that can used to customize one's stay here at MMOG. Alternatively, users can choose to click on "User CP" with the same results. To learn more about how to use your Control Panel,
click here
.
Edit Signature
Users can be sent immediately to the 'Edit Signature' feature for personalization.
Edit Your Details
Clicking on this will allow users to edit their personal and contact information directly.
Edit Options
Clicking on this will allow users to configure their forum preferences such as being in 'invisible mode' and tweaking e-mail notifications. To learn more,
click here
.
Miscellaneous Quick Links
Private Messages
Check your private messages here from fellow forum members and friends. Alternatively, this can be accessed from the Control Panel.
Subscribed Threads
Check all subscriptions you have subscribed to in the forums. Alternatively, this can be accessed from the Control Panel.
Your Profile
A feature that quick link's to your main profile which features your visitor messages, a friends list, and more. Alternatively, this can be accessed from the Control Panel.
Who's Online
An interesting feature that allows users to view all forum users that is currently online and provides when their last known activity, what part of the forum they are looking at, their IP Address, and instant messaging (if available per user). By default, user names are listed in alphabetical order from A to Z, but users can re-organize the list by clicking on either the 'Last Activity' or 'Location' main column headings. For example, clicking on the 'Last Activity' heading will list all users based on the last time they actively posted.