Today we're going back in time to the early stages of Rusty Hearts' development. Rusty Hearts has been in the works for nearly 5 years since its inception and has been evolving in to the gorgeous MMO you see today. One of the first phases of development was conceptualizing this beautiful macabre world filled with vampires, monsters and werewolves. This included flushing out characters, enemies, storylines and other critical game elements. Looking back, the most interesting visual element of Rusty Hearts' early development was the incredibly detailed concept art.
For many on the team, the most fun aspect of development was creating a world filled with ferocious heathens with their own unique attacks and fighting styles. After the team laid the ground work, our artist's took the concepts to the drawing board and brought them to life.
Below you'll see some early concept work for both the Minotauros and Minotauros Lord. This raging bull-like monster is known for his devastating horn thrusts and savage axe swings. His attacks and fighting style are easily recognizable based on the great concept drawings seen below.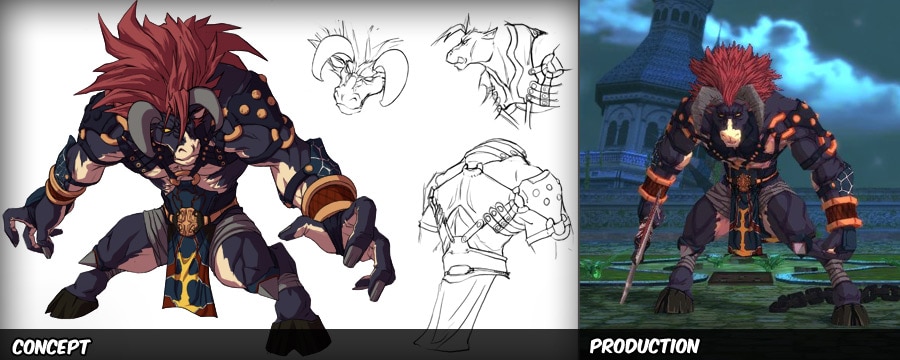 You'll notice how true to the concept the Minotauros is in the production version of Rusty hearts . Both the illustrators and modeling team worked nearly in sync bringing these characters to life. The spot-on final product is stunning.
We'll be exploring more concept work and comparing it to the final in-game product in hopes of giving you an inside look at the development of Rusty Hearts. Keep an eye on our blog to see more exclusive images soon.