Looking for a specific Gem Box color? No need to go random, go with your gut. For the first time we're introducing color specific Gem Boxes for you to purchase at your discretion. You'll no longer be at the mercy of the gem gods. Pick from any of the gem colors below, simply purchase the color you would like and throw them in to your equip sockets.
Choose your Gem Box colors carefully

Just like many other cash shop items, the new Color Gem Boxes can be purchased in larger quantities at a substantial discount. Choose from a pack of 10 or 30. When you opt for the 30 pack you'll save 100 Zen over buying the standard 10 pack 3 times. Be sure to choose your packs wisely as you could end up saving some serious Zen depending on how many gems you need.
Buy more, save more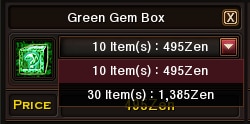 You guys demanded it and it's finally here; be sure to get the gem box you need by picking them up in the Cash Show now.