We've heard you loud and clear, and we're marking changes around here. We've been trolling our forums and evaluating our statistics and while the Rusty Heart's difficulty is good, it's not perfect. After collecting extensive feedback from players for the past few weeks and performing internal play-tests, we've decided to give an added bump to "Hard", "Very Hard" and "Blood" mode difficulties. Please be aware that the "Normal" difficulty has not changed at all and players can continue to enjoy that as it continues to be a favorite.
After rigorous testing and investigation we did manage to find a few ways to adjust the difficulty for the better. Here are a few changes we made and some background information on what went in to making our decision.
The first change we made was increasing the enemy gall and fortitude. Your enemies will fear you less and spare no time attacking you. This means that you're less likely to see monsters wandering around you while you beat their heads in. This was something we debated quite a bit and had to test with each enemy. There are some enemies that need to attack faster and there are others that are just fine. Most melee based enemies will attempt to attack you more frequently which will increase your just guard opportunities and provide a deeper gameplay experience.
You will be challenged like never before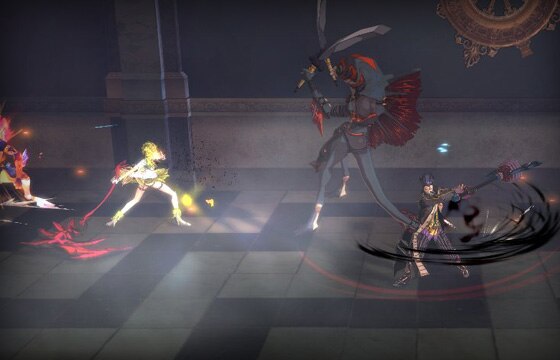 The second addition regarding enemy attack speed was spacing their combos closer together. Instead of inflicting hits every so often, enemies will now attack you similarly to a real person, wasting no time to drop a wicked combo on you. Once an enemy has you in their grasps, it will become increasingly difficult to escape their wrath. Most players will learn to be a bit more cautious when attacking and plan their attacks more efficiently.
The final modification we wade was increasing some of the enemy's strength. While they won't be tougher, they will inflict a bit more damage. Some of the feedback we got suggested that players didn't feel they were in immediate danger when being attacked by enemies. The increased strength of these monsters should create a more intense sense of urgency while raiding dungeons.
The updated difficulty settings, combined with the
brand-new Dungeon Ladder system
, will bring a whole new level of challenge to running dungeons. Post your best times and Style Points solo or in a party to win some awesome in-game prizes in our ongoing Ladder season challenges.
We hope you guys enjoy the new revisions and learn new techniques to defeating your foes. Remember, if you ever encounter a dungeon you just can't beat, JOIN A PARTY. Creating and joining parties is extremely simple the most fun way to play Rusty Hearts.