It's been years in the making and a culmination of thousands of man hours of work and here we stand, preparing the Rusty Hearts Awakening release. We've come a long way since our last "State of the Game" was posted when the Closed Beta initially went live. It's been nearly two months since we launched the Closed Beta and it's clear a lot has changed. We've collected tons of feedback from players via forums, Facebook, emails and Twitter and we've made our best effort to incorporate those suggestions in to the game. We believe all of your input has helped forge the best Rusty Hearts version possible.
When the Awakening update goes live tomorrow after the regularly scheduled maintenance October 11 at 10pm PDT , October 12 1am EDT / 5am GMT +0 you'll be given full access to the most comprehensive Rusty Hearts experience to date. While this is the largest update to Rusty Hearts, it's not the end. The team is still working on a ton of new content that will be coming your way in the coming weeks.
Let's take a look at how far we've come and where we're going with Rusty Hearts. When we last posted our "State of the Game" we examined some of our top player concerns and discussed the changes we had planned for those issues. Today, we take a look at what's new and what you can expect come October 11th.
Awakening Update

The Awakening update is set to bring a variety of new additions to Rusty Hearts as well as clean up some of the Open Beta bugs floating around. We have a full length preview of the Awakening update that can be found
Here
. Be prepared for new bosses, new levels, increased level cap and some new items because it's coming whether you're ready or not.
Technical Issues
With the release of the open beta, we encountered a number of challenges that are normal for games in the beta stage. The Awakening release is the most complete version of Rusty Hearts we have ever played and most technical issues should be resolved in this update. While we have been working extremely hard on getting RH as polished as possible, inevitably some players are going to have problems with something within the game. Because there is such a variety of PCs, both with unique hardware and software, there are bound to be unforeseen errors that we have yet to tackle.
If you continue to have issues with Rusty Hearts check out our
knowledge database
and see if you can get your problem solved.
Stamina

Since the initial phase of the Rusty Hearts Closed beta players have been very skeptical about the effectiveness and intended effects of the Stamina system. The stamina system in RH was a measurement of a player's progress throughout the game. When your stamina depleted you were no longer able to gain additional exp from raiding dungeons.
We've listened to player feedback and we worked extremely hard to remove the stamina limitation plaguing the Rusty Hearts community. Gone are the days of limiting your gameplay and not gaining exp because you play too much or are just too good. With this latest update players won't have to be concerned about how much exp they have left, if any.
In conjunction with the removal of the stamina system, we have now removed the save stamina items from the game. Poison's Box no longer contains any of the save stamina items it once did. We think this new unrestricted system will be beneficial for all players by letting them play longer and on harder settings.
Events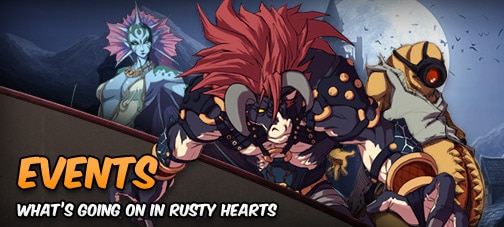 One of the most important elements for an MMO is to constantly have objectives. We want to make sure you guys have tons of options. Sure, you could hit PVP, PVE or just run around town for a bit, but we want to create a richer and more active environment. We will be running daily, weekly and even monthly events that will challenge players to beat their peers and show who really is the best. Whether you want to beat dungeon faster than anyone else or complete the most Wanted Board quests, we've got an event for you. Keep and eye on the vents page and get in on an event that will yield a rad prize.
We will be post new events in our newly designed launcher as well as all of the latest Rusty Hearts news. Keep an eye on the new sliding images as you load RH and feel free to read up on all things RH before launching the game.
Gamepad Support

We talked about this in detail when Phase 2 of the Closed Beta was released, but it's worth mentioning again. Gamepad remapping is now a supported feature in Rusty Hearts. You can find additional details on the remapping
HERE
. The remapping application will allow you to customize your gamepad anyway you like for maximum comfort and damage. While we support a variety of gamepads including a wide array of Logitech controllers and the official Xbox 360 controller, not all gamepads are compatible. We're still working hard on the remapping software and we're hoping to get more support as we continue updating Rusty Hearts.
There you go, a hurricane of Rusty Hearts information and updates. So, what is the state of Rusty Hearts? Awesome, that's what. You guys voiced your opinions and we made your dreams come true, that's what we do. Now if you don't play the Rusty Hearts Awakening, all our work will have been done for nothing, so please don't disappoint us. We want to see everyone playing RH flexing their game hand.
Thanks for helping us with the closed and open beta; we hope you guys enjoy all the new features, additions and revisions. We're working hard to make RH the best MMO possible and we hope you guys have fun.
Remember, you can give us feedback, discuss game content and mingle with the coolest cats on the internets by hitting the Rusty Hearts Forums,
Click here
to check it out.
You can follow us on
Facebook
and
Twitter
and get all the Rusty Hearts information instantaneously.