The Awakening is finally upon us and it's your turn to show us if you can handle it. We've got some events that will awaken your inner challenge and get you in the mood to earn free stuff. Check out what we have in store for you.
Weekly Events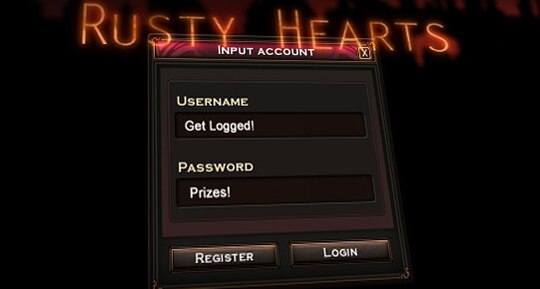 Get Logged
: Log in each day for the first 7 days of the Rusty Hearts Awakening update starting October 11th and get hooked up. If you complete this objective you'll be rewarded with bountiful loot. Expect to receive the following:
(5) Blood Mode Keys
(10) Wiseman Stones
Army of One
: Think you're the best PVP player out there? Prove it! The top 5 PVP players based on character will be rewarded handsomely. Starting on 12:00am PDT Monday October 10th and running through 11:59pm PDT October 16th, the 5 players with the most wins will win.
Details: For each Rusty Hearts character (Angela, Tude, Frantz) we will reward the top 5 players with the most PVP wins during the allotted time.
Here's what you could win:
(10) Clovis Illusions
(3) Silver Thread Ball
The #1 Player for each Character will also receive the following Item:
(1) Costume Frantz-Shark, Tude-Carp or Angela- Grasshopper Costume (you will receive the costume that corresponds with your winning Character)
*15 winners will be rewarded and players are eligible to win more than once.

Enchant It. Redux
: Hook up with Ruska and enchant 3 items/weapons to level 5 * (weapons/items must be +0 / unenchanted to qualify) between 12:00am PDT / 3am Eastern 10/11 and 11:59pm PDT / 2:59am Eastern 10/14 and receive the following prize:
(10) Clovis of Illusion
(5) Resurrection Scrolls
(1)Silver Thread Ball
*You can enchant both weapons and/or random items. Players must successfully complete +5 upgrades without failure. Weapons already leveled to 5 do not qualify for the prize.
Please be aware that event prizes will not go out upon completion of the challenge. Your reward will be sent when all of the week's events have been completed (10/18).
There are many more events are to come, so make sure you check back often to keep up-to-date to win!