If you've got it, flaunt it, right? Next patch, you'll definitely get it. A new set of skills, that is.
This August 17th, Raven gets new unlockable skills that will make him the envy of every Taker wannabe. Here's a sneak peek of what's in store for Over Taker and Sword Taker: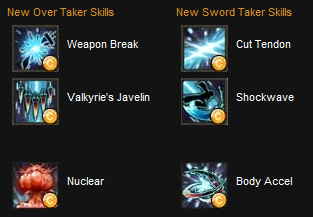 What about the others, you ask? We've got you covered, Elpeeps. Just because Raven is new doesn't mean he gets all the fun. We're also introducing new Guild Skills to give you that extra edge in surviving the dungeons! What's a guild without some perks, eh? Check these bad boys out:
Last but definitely not least, Ice Burners return to the Item Mall! Prepare to get your clickers on those Ice Burner exclusives and other useful items.
August 17th – mark your gaming calendars!
More info coming soon!