Public Test Server has Arrived!
Dear Dungeon Fighters,
The Public Test Server is open once again to a select group of DFO players who have demonstrated the kind of exceptional dedication and ability that we feel could benefit everyone. We ask these players to join us in putting Act VIII: Under Siege through vigorous testing before it is released.
What is a Public Test Server (PTS)?
A PTS is a separate test environment set up specifically to test upcoming content. During this testing period, we're using it to test Act VIII: Under Siege, which includes Town Invasions, an improved Party Matching System, the Light Client / Active Background Download, amongst many other things!

Who has access to the PTS?
We've invited about 3,000 of DFO's core players, handpicked by our staff, to be a part of this current testing period of the PTS. These PTS players have demonstrated their excellence and dedication to DFO, and were chosen based off many factors such as their dungeon and PvP rankings, their guild's ranking, and this past Holiday Season's "12 Days of Arad" event. These selected players will log in to the PTS with their regular accounts, however the PTS is an entirely separate environment.
How is the PTS different than the live server?
There are many differences besides the content. We have applied different conditions to the PTS to optimize testing. However, any character created in the PTS cannot be migrated to the live server, nor will any character created on the PTS be guaranteed to remain intact. Due to the nature of the PTS, characters may lose equipment/items during maintenances. However, we have made it easy to level up characters in the PTS (Note: conditions apply only to the PTS and do not reflect changes in the live server).
1. All selected accounts during this testing period will receive
NX 200,000
to be used only in the PTS.
2. The
EXP rate is x7
the normal rate.
3. The
Item Drop rate is x10
the normal rate.
4.
Seria is selling Red Tau Potions
(recovers 50 Fatigue Points) for gold.
5.
Only 3 channels are open
: Ch. 6 Trade, Ch. 17 North Myre (West), and Ch. 38 North Myre (East).
6. Content:
1) An
improved Party Matching System
that places players with a low ping rate to play in the same party.
2)
Light Client / Active Background Download
: The initial full client download size has been reduced from 1.2 GB to 700-800 MB. All necesssary animations associated with avatars and equipment will be downloaded in the background without interrupting game-play. With this feature, the below changes have been made to the PvP Arena to ensure that all players properly download all necesssary animations before the match starts:
a. Players will no longer be able to change equipment/avatars once a PvP match has started.
b. After the "Start" button is clicked, the actual match may start ~5 seconds later.
3)
Monsters will invade Town
each day between 3pm-8pm Pacific. Help defend Arad!
When is the PTS open?
For this testing period, the PTS will be open from:
Start
: March 29th 11 am Pacific (2 pm Eastern)
End
: March 31st 5 pm Pacific (8 pm Eastern)
Please keep in mind that due to the nature of the PTS, unscheduled maintenances may be necessary. We will try to keep you updated on any changes to the maintenance schedule.
How do I access the PTS?
Selected PTS players have already been notified via email, but even if you haven't been selected in this round of PTS testing, we will continuously be inviting DFO players to join the PTS family in future updates.
If you have been selected to be a PTS tester, here's what you are going to need to know:
Step 1
: When you log in, you will see under your Nexon ID an "Enter Public Test Server" link. Clicking this link will take you to the PTS Access page.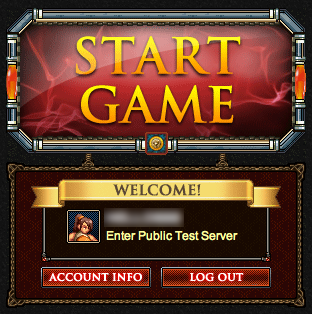 Step 2
: On the PTS Access page, please read through the brief but important information on the right column regarding the PTS.
Step 3
: Please note the Bug Report button. When you encounter issues with the PTS client as you play it, please return to the PTS Access page, click on the Bug Report button and fill out a bug report. You can report as many issues as you need, but please only include one (1) issue per bug report. If you consolidate issues it makes it more difficult for our staff to sort them out.
Step 4
: When you are ready to dive into the PTS, click the Enter PTS button to install and launch the PTS client.
We depend on you, Dungeon Fighters, to carry Arad into a new era!
Fight Bravely,
- Arad High Council -
Public Test Server has Arrived!