Increase Your Connection Stability
Behold the secrets to solid Party and Arena play!
Servers are divided into East and West to bump up onnection stability
Dungeon Fighter Online is a peer-to-peer game system, which means that when you play with other people, you depend on the connection stability between their computers and yours to be able to maintain game play. If that connection is weak, you will experience lag. Dungeon Fighter Online helps you identify players with whom you may experience lag by flashing a symbol that looks like a computer monitor with an exclamation point on it on top of the character icons. When you play in a party or in the Arena, optimize your game play by avoiding players with whom you have a weak connection.

To further help our players help connection stability between each other, we have designated servers specialized for the West side of the continent and the East side of the continent. Though you are not bound by this, for optimal game play, we strongly encourage you to play in the servers that correspond to your region.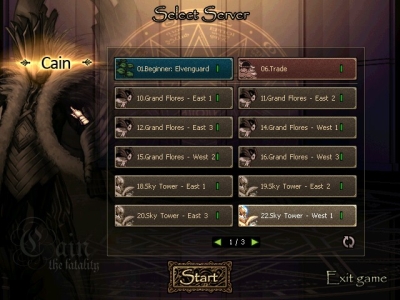 Fight on, brave warriors! Save Arad!
- Arad High Council -
Dungeon Fighter Online – Taking the arcade fight online