Welcome Dragon Nest fans!
I'm Desmodeus, the lead producer for Dragon Nest. Usually this space is reserved for Lucius and Princess K to inform and entertain Dragon Nest fans with some of the goings on within the Dragon Nest team. But just coming back from PAX East, I wanted to share with you what I think makes Dragon Nest such an incredible game that I hope everyone will play.
Incredible Visuals
Dragon Nest is an incredibly stunning game, but attractive graphics are a dime-a-dozen in video games. What sets Dragon Nest apart is the combination of appealing art style, attention to detail in the character and environment art and the incredibly fluid animations that doesn't overly tax your computer. That makes for a very smooth gameplay experience that's hard to describe in words. It's the kind of thing you have to feel.
Dragon Nest is beautiful, but it's even more beautiful in motion. It's the way things at the edges of the screen blur while the camera swoops around. It's the smooth character motions and animations while putting a character through his or her paces. The Archer, for example, has the moves of a dancer. Even while she's whirling around, flipping over, or kicking monsters half way across the screen, she has this amazing ballet-like grace to her motions. The Sorceress, on the other hand, moves in a slinky, sexy, and arrogant way. I guess "saucy" would be a good word for it. When you see it, you'll understand.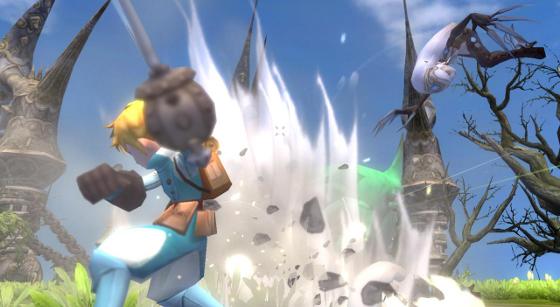 Incredible Action
Dragon Nest plays more like a third-person shooter than it does an RPG. The perspective of your aiming reticle is over to the right. That means that your avatar doesn't get in the way of seeing the action–and that's the really fun part.
You run around, dodge enemies, blow them up, and kick them around. Creatures get behind you, they flank you, they work together and try to bum rush you. You've also got a bunch of special powers that you can toss off and string together in these really cool combos .
Deep Story
The Dragon Nest name is based on the story that shapes the game. If you are into storylines, Dragon Nest combines the best of an action game with that kind of deep long-term story you only get in an MMO. You can read some of Dragon Nest's origin story on the site. Go check it out! It's really good, and it makes me want to explore the world a little bit.
You know, in those few seconds between killing lots and lots of monsters.
Based on the comments on Facebook, there's only one thing we can say that's going to be of interest to you guys, and that is "when is it coming out?" The answer to that is still, "soon" but in the meantime, I hope you enjoy reading the blog!
Desmodeus
Dragon Nest -- the fastest MMORPG online!