Date: Feb. 28, 2011

Welcome, Dragon Nest fans! Iím Desmodius, the Lead Producer for Dragon Nest. We wanted to keep you updated on the progress of the game. The thing is, two of my Associate Producers wanted to handle this blog. So I decided to let them work on it together in the hope that the two of them might somehow balance each other out. If nothing else, itís an hour a week where I donít have to deal with either of them.

-- Desmodius
This week: Planning.
Lucius: Hey, Dragon Nest people. Iím Lucius. Iím the Associate Producer on Dragon Nest. That means I do all the real work while Desmodius gets trotted out to do interviews at trade shows. I wanted to do this blog because Dragon Nest is going to be pretty *bleep* cool and I figured I could help get across what gets us so excited about it Ė action, violence, explosions, big-ass spell effects, hideous monsters, and more action and violence. Unfortunately, I also got saddled with Princess K, the other Associate Producer. Yes, thatís really the Internet name she goes by. Princess K. Really.
Princess K: Hello, future Dragon Slayers! As Lucius mentioned, my name is Princess K. Iím the other Associate Producer on Dragon Nest. I could tell you I toil day and night to bring you Dragon Nest like Mr. Grumpypants here, but Iím not going to. The truth is, working on games is just as much fun as you think it is! I wake up at 6:30 AM every morning, blow a kiss to my Taylor Lautner poster (Team Jacob FTW!), and come in to work singing along with Katy Perry on my iPod. The only reason I wanted to do this blog was because I wanted to keep all of you in the loop as to whatís going on with the game, address questions you may have, and offer a peek behind the scenes at Dragon Nest. R U Ready? <3333333
Lucius: No. This is not a joke. Sheís really like that. Itís like coming to work with a Care Bear. Anyway, Desmodius wants us to blog about planning this week. If you work in games, planning is really important if you ever want to see your family or, say, the Sun, ever again. As a Producer, you have Microsoft Outlook surgically grafted to your head, you eat Excel spreadsheets with your morning cornflakes, and you get to know Word better than your own wife. In short, Microsoft Office owns your soul.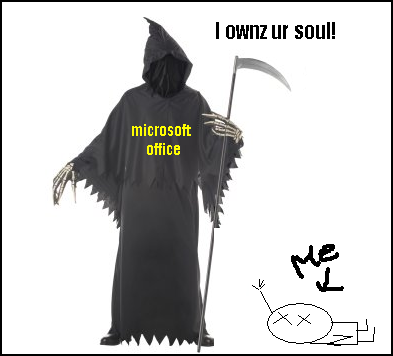 Princess K: Honestly, Lucius. Youíd think you worked in a salt mine! Seriously. Take a look at the Producersí room where I work. Itís very cluttered, but that just contributes to the creativity! We have little post-it notes stuck everywhere, white boards full of writing, dual monitors flashing the bright white light of open document files and, of course, every desk has its little gallery of science fiction and fantasy toys (I have the cutest set of vintage My Little Ponies from the 1980ís!).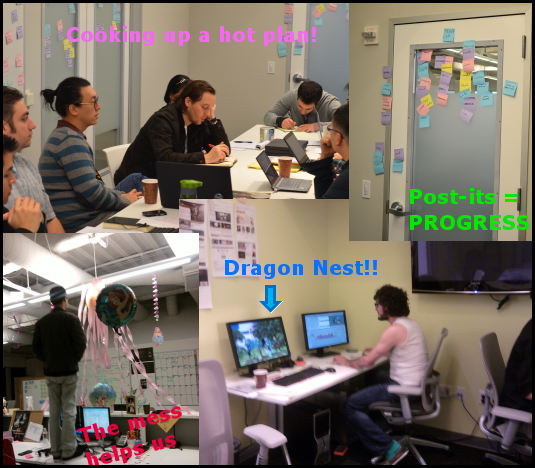 Bringing Dragon Nest to North America requires a lot of planning. What kind of technical specs can our audience handle? What kind of gameplay experience are they looking for? How do we properly translate the text to retain the flavor of the original? And we have to work with our dear friends in other departments like Marketing, PR, and Community to let the world know the game is coming. The list of tasks goes on and on and on, but when everyoneís on the same page, itís like a smooth ride on a country highway!
Lucius: If by ďcountry highwayĒ you mean the one that they traveled on in Deliverance, then sure. Itís just like that. Hereís what planning is really like. We Producers get pushed into a meeting room that, except for the large conference table, would otherwise resemble a Burmese prison cell. A bunch of other people from Marketing, PR, Community, and other teams are there to hash out schedules. Hours and days of arguing ensue with all the grace and subtlety of a monkey knife fight.
Princess K: Heís so silly! Actually everything so farís been as smoooooooth as silk! We actually started planning for the launch of Dragon Nest back in the summer of 2010. We started meeting with our wonderful game studio Eyedentity around then, playing with versions of the Korean client, and putting together documents that would help other departments understand what the game was all about. Weíve also been creating a game testing schedule, a website update schedule, a server preparation schedule, a Marketing plan, all the assets weíll need to launch properly. Itís going great!
Lucius: While I hate to agree with the powder puff, it actually is going well. It really helps when you have a great game like Dragon Nest to work on. That gets everybody really motivated to do their best. Donít get me wrong, itís still a brain-crushing, soul-destroying process, but at least with Dragon Nest you know the end result is going to be awesome. Believe me, Iíve worked on games at other companies that felt the same and the end result wasÖ well, if I told you, Princess Kís head might explode.
Princess K: Heís such a silly! Anyway, I thought Iíd end this blog by putting down how each of us handles the planning process:
Our Lead Producer, Desmodius: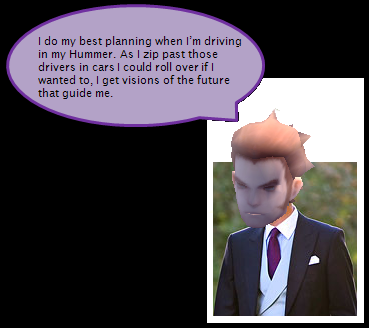 Lucius: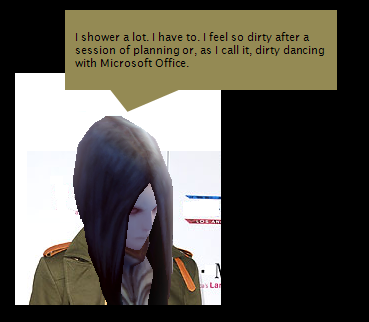 Princess K:
Dragon Nest -- the fastest MMORPG online!