The mariachi band we hired to play in Saint's Haven to celebrate Cinco de Mayo just cancelled on us (apparently they mistook a barrel of Super Slop for apple cider), and the video we were preparing of us stuffing our poochums' faces with tacos, enchiladas, and tortilla chips would probably get us in trouble with DIPP (the Devoted Individuals for Poochum Protection).
So instead, we've prepared three full days of fun activities that have nothing to do with Mexican heritage and pride. But, hey, it's free stuff, so you don't mind, do you?
Free Entry Passes!
Sometime on May 3rd, all characters Lv. 40 and above will get entry passes to the Sea Dragon and Green Dragon Nests for FREE: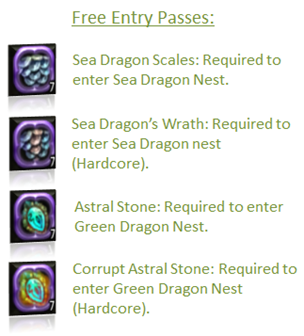 *Note: Characters do not need to actually be logged in to receive the free entry passes.
Resurrection Scroll Deal, Buy-Two-Get-One-Free!
Date: 05/04 – 05/05
What: Buy 2 Resurrection Scrolls with NX Prepaid
Reward: 1 Free Resurrection Scroll

-
Free scrolls go to the character that you were logged into when you purchased the items
-
Free Resurrection Scrolls will be distributed starting May 8th
-
Limit of 100 free scrolls per character
-
If you buy 10 scrolls, you get 5 free!
-
If you buy 200 scrolls, you get 100 free!
-
If you buy 500 scrolls, you get 100 free!
No Revive Limits in the Sea Dragon and Green Dragon Nests (Normal and Hardcore)!
You know all those Resurrection Scrolls you purchased the day before? On May 5th, they'll be useable in the Sea Dragon and Green Dragon Nests, in both Normal and Hardcore modes! Once you use up your Life Stones and your Jugo de Manzana de la Vida (Apple Juices of Life… oh, so nutritious!), you can use Resurrection Scrolls to keep reviving, but just for one day!
So put on some festive music, dance a
jarabe
around the dragons, and hit them with sticks until they break open and spill forth scrumptious treats. That's Cinco de Mayo, Dragon Nest style.