If you're proud of your main character, let it show! Any adventurer who assigns a main character to the character info page by May 5th, 2013 is about to get rewarded. And if you assigned your main character eons ago (way before it was cool), double check to make sure it's the correct character and you're already good to go!
Date: 05/01 - 05/05
What: Set your main character in the Character Info page of the official Dragon Nest website
Reward: 3x Dragon Eggs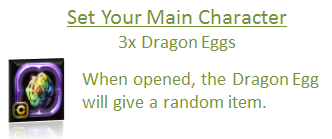 See what you could find in your Dragon Eggs
here
!
Assigning a main character is simple:
-Go to
http://dragonnest.nexon.net/
and sign into your account
-Go to Support (at the top right corner) then click on Character Info
-Choose the character you want to be associated with your account and click the Make Main Character button
Assign those characters to let everyone in Altera know you mean business.