A catastrophe has shaken Altera to its foundations! Complete new quests and dungeons in Lotus Marsh, survive twisted challenges in Chaos Rift Padma, and check out all the new features, events, and improvements in the latest update!
Lotus Marsh Expands
Lotus Marsh gets its first major update! Embark on new story quests and side quests, and clear 5 new Lv. 40-50 dungeons!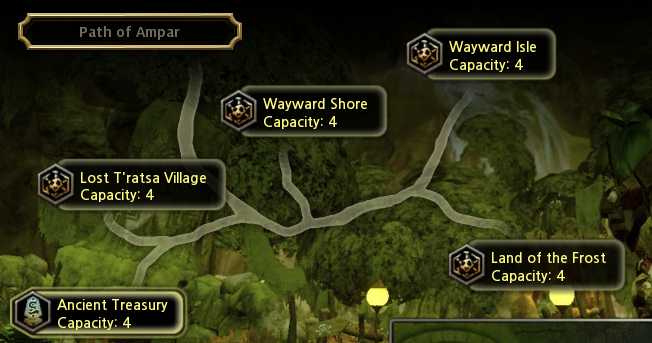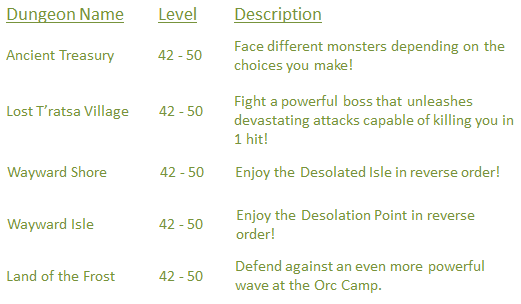 New Chaos Rift Padma
Chaos Rift Padma has opened, giving Lv. 50 players a new challenge! Can you survive the chaos and defeat the twisted Shadow Heroes?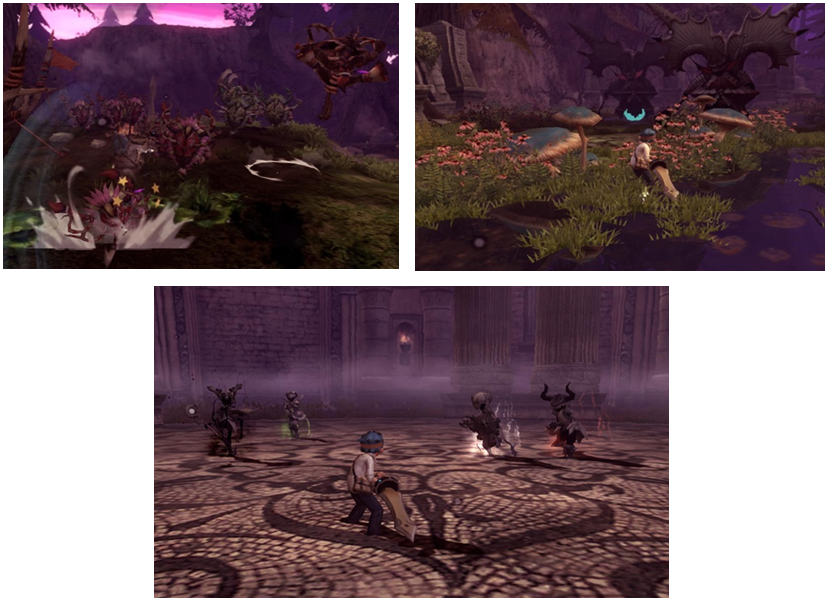 - Recommended Level: 50
- Entry pass required: 1 Dimensional Box Key
- Portal Location: Liverworth Marina in Lotus Marsh and the Garden of Eternity.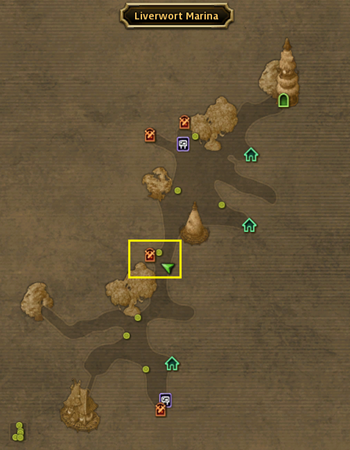 - This Rift can be cleared 7 times a week.
- Rewards:
o No Monster Hunting EXP will be given. Only Dungeon Clearing EXP.
o Glowing Technique Fragment

New Suffix System
The members of the Order of Darkness have decided to aid humanity by opening up new Goddess Mercy Shops where players can further enhance their equipment with the new Suffix system.
- Visit one of the Priestess of Darkness sisters in Saint's Haven or Lotus Marsh.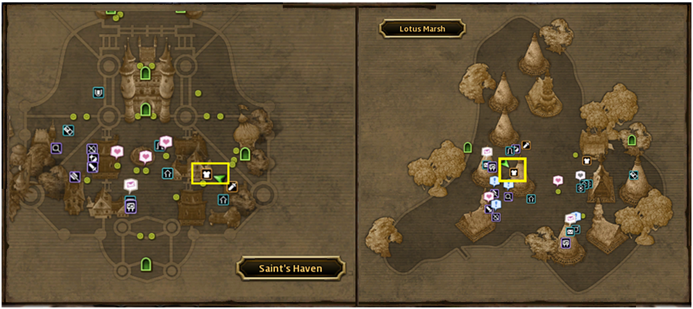 - Select the "Enhance Suffix" Menu and see all the amazing equipment that can be crafted.
- This only applies to equipment that is Lv. 50 or higher.
New Practice Modes
Practice mode is now available for the Archbishop and Titan Nests so you can hone your skills and see what you're up against before taking on the full nests. The entrance to these practice modes is the same as the nest entrances.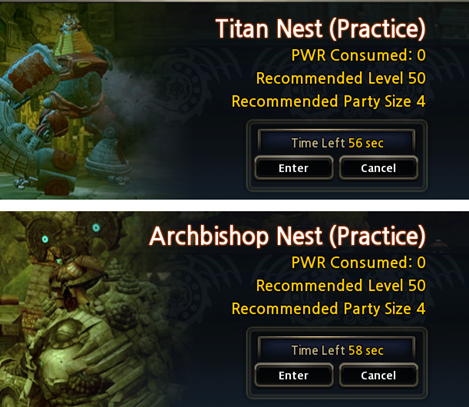 - Entrance to Practice modes is located at the existing entrances of Archbishop and Titan Nests.
- The rewards and entry requirements are the same as those for existing Practice modes.
Holiday Events
Stock up on gifts for the holidays with a trio of wintery events!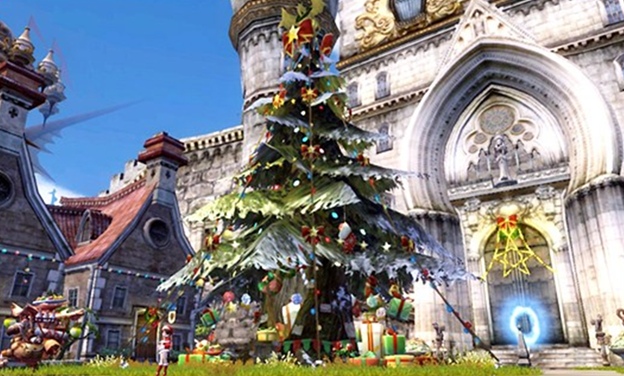 - Log in every day for Holiday Gift Boxes.
- Find and defeat the Santa Quackum in Lv. 50 Abyss dungeons to get either a Holiday Gift Box or a Special Holiday Gift Box.
- Spell out "X-Mas" by collecting holiday ornaments to receive holiday costumes for your pets.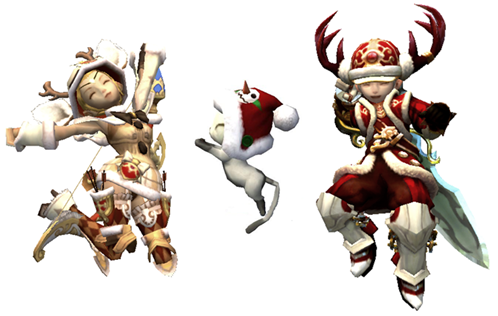 To see the full event details,
click here.
Dragon Vault Update
The Dragon Vault has been updated just in time for the holidays!
- White Dire Wolf mount coupon and Lv. 30 decal in dragon egg.
- New 100 quanity Dreamy Approval Stamp.
- New Holiday costumes (2 different colors).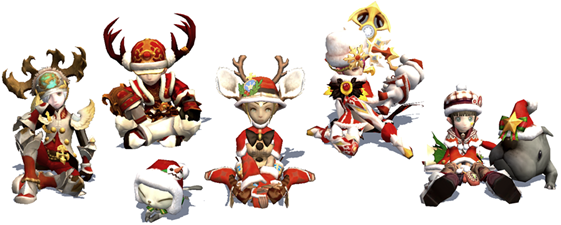 To see more information,
click here.
Bug Fixes:
- "Success" sound effects can now be heard when fishing.
- Fixed outdated unlock requirements for the Furious Mezzanine 16F Weekly Achievement.
- Added Lotus Marsh NPC names to their friendship gifts description.
- Fixed a seed planting exploit in the personal farm.
- Lotus Marsh friendship pages now include the correct quest unlock requirements.
- Revised the Dimensional Box Key item description to include Lotus Marsh information.
- "Cannot be purchased with NX Credit" has been added to the Adventurer Bag Discount Coupon and Storage Expansion Discount Coupon item descriptions.
- Updated an inaccurate duration on the "Deathbloom" skill description.
- Fixed a stuck spot when initially falling at the start of the Titan Nest.
- Quality Onyx, Quality Diamond, and Quality Altheum now appear in the Quality Lustre category of the crafting menu.
- "Cannot set a Private Party password that begins with zero" has been added to the Private Party menu.
- "M:1302033" text no longer appears when traveling through the Carderock Pass portals.
System Improvements/Changes:
- New Unique Potential Sparks have been added.
o Purchased at the Goddess Mercy Shop only.
o Cannot be traded and can be used by any class.
o Can be used in the same way as the existing sparks.
o NOTE: Both Goddess Compassion and gold is required to purchase, and there is an alliance discount applied with gold.
- The Goddess Compassion Shop is open, allowing players to purchase materials to craft equipment, sparks, and purchase specific equipment.
o All items can be purchased using Goddess's Mercy which can be acquired by completing daily quests.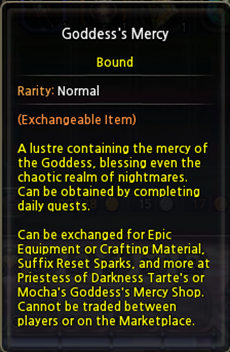 - New quests are available for Jump Characters only.
o Visit Tracy in Saint's Haven to have your new Jump Character start their journey.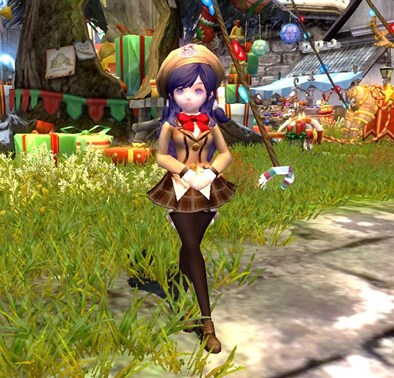 - Level requirements for trading and some mail functions have changed:
o Must be Lv.24 to use the Marketplace.
o Trade function between two players becomes available at Lv. 20.
o Write mail function becomes available at Lv. 20.
- Increased the EXP for Level 40-50 main, side, and daily quests.
- Storage, Market Place, and Blacksmith NPCs now appear in the Arena area.
- Only one (1) Bonus Farm Pass or Master of the Farm Package can be purchased at a time.
Known Issues:
- All Lotus Marsh channels incorrectly show Lv9 ~ Lv24 instead of Lv40 ~ Lv50.
- Jump character level-up rewards have an inaccurate duration period.
- Windows 8 (32 Bit) encounters a Hackshield error that force-closes the game.