It's dark days indeed in the world of Dragon Nest. The monstrous Cerberus has taken up residence in our fair land, the Fete of All Flesh has begun, and the citizens of a strange town have started turning into monsters in the new PvP Ghoul Mode. The spooks continue with two Halloween Happenings events and some scary good deals in the Dragon Vault update!
See what's happening:
Cerberus Nest


For more information, click
here
.
The adventurers of Dragon Nest continually challenge the forces of evil in a mighty crusade to save the world. But from the depths of the Abyss comes a new challenge sure to test even the mightiest of heroes. As the Hellhounds are released, you must prepare to face their lord, the mighty Cerberus!
New Field in Saint's Haven
• Garden of Eternity

New Dungeon


• Cerberus Nest
o Recommended Level: 32
o New Mode: "Hell" (only available for Cerberus Nest)
o Bosses: Umgrum, Minotaur Commander, Hobuster, Brockius, Thumpy, Ogre Commander, and Cerberus Casali

"The Fete of All Flesh" PvP Update



Think you're different from the enemies you face in Dragon Nest? Think again. The Arena is getting frighteningly full of all-too familiar foes in the new PvP Ghoul Mode!
For more information, click
here
.
• New "Ghoul Mode" is now available in the Arena channel.
o Ghoul Mode can be played on the PvP map "Silent Square."
• At the beginning of each round, the town of Silence will transform one player (chosen randomly) into a ghoul. Any other player killed by the ghoul also becomes a ghoul and has access to special ghoul skills.
• Medals and EXP will be awarded should players choose to consume power.


Halloween Happenings
:
Between hunting Hellhounds and transforming into a ghoul, it's tough to see how this party could get any better, but the Royal Court has outdone itself with two new Halloween Happenings!
For more information, click
here
.
• Treats & Tricks: Log in to a town and receive the "Happy Halloween!" achievement as well as a Halloween Cookie in your NX Gift Box.
• Pumpkin Duck Hunt: Defeat the Pumpkin Duck to obtain Halloween Coupons.
o Collect Halloween Coupons and exchange them for Lantern, Horn, Demon, and Gentlemen Pumpkin Heads.


Dragon Vault Update: Fashions for Your Fete

Head to the Dragon Vault to transform yourself with the latest fashions for your fete this Halloween!
For more information, click
here
.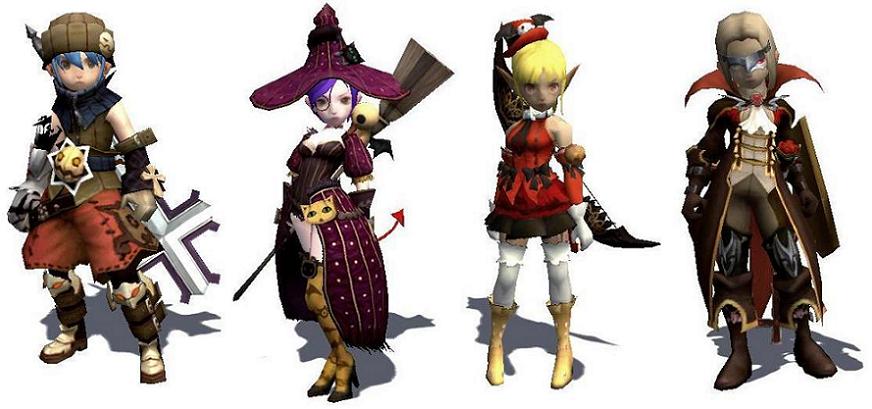 New Styles
• Face
o Innocent Archer Face
o Innocent Cleric Face
o Innocent Sorceress Face
o Innocent Warrior Face
• Hair
o Cheerful Ponytail (Archer)
o Emo Hair (Cleric)
o Soft Long Hair (Sorceress)
o Back Spike Hair (Warrior)
New Weapons

• Archer
o Succubus Dark Bow (Primary)
o Succubus Quiver (Secondary)
• Cleric
o Vampire Flail (Primary)
o Vampire Cross Shield (Secondary)
• Sorceress
o Witch Magic Broomstick (Primary)
o Witch Spell Book (Secondary)
• Warrior
o Demon Warrior Blade (Primary)
o Demon Warrior Gauntlet (Secondary)
New Armor Sets

• Archer
o Shadow Succubus Set
o Red Succubus Set
o Light Succubus Set
• Cleric
o Darkness Vampire Set
o Cold Vampire Set
o Ghostly Vampire Set
• Sorceress
o Midnight Witch Set
o Skull White Witch Set
o Purple Soul Witch Set
• Warrior
o Shadow Demon Set
o Bloody Demon Set
o Chaos Demon Set
Bug Fixes

• Items dropped by monsters were occasionally invisible. This has been fixed.
• The text for the Saint's Haven Storage Keeper NPC has been fixed.
• Ice Shield and Fire Shield have been fixed. They now reduce damage to the caster and have a chance to inflict the correct status effect on enemies.
• "The Dragon Raid" has been fixed and is no longer exploitable by using Gerrant
.