Adventurer's League Board, September 2, 2011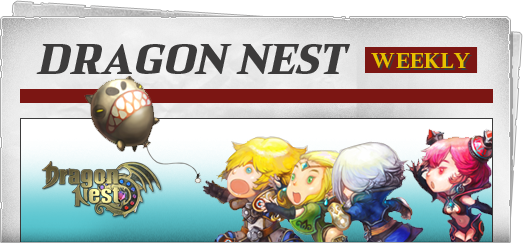 Greeting Adventurers!
David here, the greatest adventurer of all time! I know you can't compete with me, but I though you might like to see what's happening in Dragon Nest that you could handle! That's why I started "Dragon Nest Weekly" to keep you updated on everything that's happening in the game. This week there was some pretty big news -- the fair came to town. And it's not just any fair, it's the Daredevil Faire. Stop by and see if you can survive... I mean, snag any prizes! There's also a rumor going round that the Priestesses of Darkness are looking for adventurers to help them hold back some great big evil. We've got some cool new stuff in the Dragon Vault, and an entry from the Dragon Nest Wiki. Read Dragon Nest Weekly if you want to be as great an adventurer as me!
Headlines
The Edge of Darkness Update Notes
New challenges await, Adventurers, as the Edge of Darkness, Daredevil Fair and the PvP Ladder open up for all players! Read the patch notes to see whatís happening in the latest Dragon Nest update!
New adventures!
Walk to the Edge of Darkness
Rozin Sanctuary is a hidden place where the Priestesses of Darkness use ancient powers to keep the corruption of the Goddess Althea from further damaging the world. In recent days however, untold horrors have begun to creep into reality. Now the priestesses have put out a call for mighty adventurers to assist them in keeping the door between reality and nightmare closed..
See what awaits you in the dark...
Events
Penny Arcade Dragon Nest Contest
Tycho Brahe of Penny Arcade tried out Dragion Nest and was pleasantly surprised. According to him: "...itís like some wicked brew of Phantasy Star Online and Lord of the Rings." Check it out and enter to see if you can win one of five plush Poochums!
Get your plushie!
Challenge the Jealous Atrium
The Edge of Darkness is waiting for you to slay enemies and protect the Goddess Statue! So what are you doing here? Go challenge the Jealous Atrium! Simply clear rounds of monsters and test your luck for a lucky prize drawing! .
Stop those waves!
The New Necessities: The Dragon Vault Update
Sometimes you don't even know how much you needed something until you actually see it. The latest update to the Dragon Vault is kind of like that. Check out what's coming that will help you become the adventurer you were always meant to be!
Get what you need!