What is CheckMate?
1. f3 e5
2. g4 Qh4 checkmate!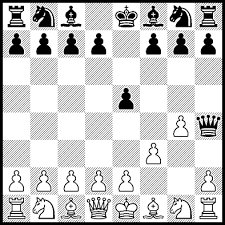 wah! two moves *fail*
CheckMate is a group of people that grows from one another and treats everyone with love and respect people that do stuffs together, help each other and do fun stuffs together
Brief History
CheckMate Guild, born November 10, 2008 and was organized by two people namely methOny
and
xVaynard. we came up with a short description
"People come and go but Real Friends stay with you thru good and bad, if you are one you're CheckMate"
Objectives and Goal
At first we just wanted it to be a simple guild as possible, like only two people with their chars on it, until some our friends put interest in joining the guild and then everything goes, and that where start looking on a big picture. To be one of the best guild built on Trickster Online.
Best not because by means of GvG|PvP|Guild Rankings. But Best because members beyond it got strong bonds that will withstand any hardships. We don't care if we are not in the Rankings as long as its members is working well and acting as one.
Guild Status
I can say the guild is still growing, our 1st job members is slowly becoming 3rd job and started to moving on their own with or without aid.
like the other guilds we also have subleaders x0xCarolinex0x
Renita
XxLadyFoxX
and xVaynard
Guild Rules
Technically there are no Rules applied here as long as you are active, knows how to run along with the people inside the guild.
but yeah as for someone who's looking for some guidelines we came up with some rules.
1. Always always,
state your name upon logging in
, the purpose of this is the get to know each member on the guild this works especially for the newly recruit person to get to know the old members.
issues about this rule:
a. boot a member calling it dumb. (Well, can you name me atleast 63 out of 64 members on the guild?)
b. active members go in and out, and mostly got dc and tired of stating their names.
2.
Visit forum at least once a day
and/or atleast try to post an interesting thread or reply on the current threads.
via guild forum communication and announcement made easy since by using your guild notice you only have 3 slots and has limited number of characters.
3.
We do not tolerate bad habits of Scamming|Hacking
an automatic termination is waiting for the members when involved in such thing
4.
Friendship, Love and Respect
this is what CheckMate is all about. Treat each member as you love yourself.
Whats Good About This Guild?
The good thing about this guild is we don't slave members to do quest to get more guild points. It just happen that we have to terminate people who don't know the meaning of Respect