Abandoned blog, since I am working on LN translations now.
Light Novels: Kabukimonogatari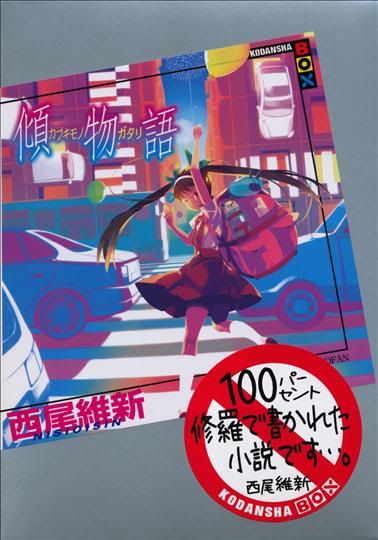 Kabukimonogatari, or 傾物語, is the 8th novel of the Bakemonogatari series.
Of course, from the schedule, we (or at least me) expected the story to be centered around Hachikuji Mayoi. After the impressive dual novels on Hanekawa, and together with the fact that Hachikuji Mayoi is not exactly one of my most favourite characters in the series, I had doubt as to whether Kabukimonogatari will be able to match up to the standards of Nekomonogatari.
It turns out that Nisio Isin beautifully erased any doubts I could possibly have by the end of the book.
Kabukimonogatari seems to have taken place slightly before the incidents of Nekomonogatari (White). One expects the book to focus on Hachikuji and most probably Araragi, but surprisingly (and unexpectedly), that is not the case. Instead, Hachikuji is more of a plot-device in this book, and instead, it actually revolves around Araragi and Shinobu.
Due to the incidents that happened during Nisemonogatari, together with the intensive study sessions together with Hanekawa and the "reborned" Senjougahara, Araragi had totally forgotten about his holiday homework, only to be reminded by Shinobu on the night of the very last day of holiday. Shinobu suggested them both to time-travel back to two days ago for Araragi to complete his homework, but strangely, they've overshot the intended period and went back to 11 years ago, 1 day before Mothers' Day. Araragi was reminded of Hachikuji's death, and believing it to be fate, he had decided to try to alter history by attempting to rescue Hachikuji from the accident.
I don't want to go any deeper than the basic gist of the story, because that will cause plenty of spoilers or what-so-ever for those who are planning to read it. In the end, Araragi's actions caused implications, which resulted in a rather unexpected scenario involving both Araragi and Shinobu, and to a small extend, Mayoi.
Like I've said, Mayoi's character actually took a backseat in this story. Instead, much of the focus went to Araragi and his unique relationship with Shinobu, as well as her feelings for him. I am always intrigued by the unique bonds Araragi shared with Shinobu, and in this book, the author went into great depths to explain and develop that relationship, as well as Shinobu's character. Being someone who ranks this relationship as second only to Araragi and Senjougahara's romance, you can say that by the end of the whole book, I am thoroughly pleased by the outcome of the story.
In a way, I think the author chose to do Mayoi's "story" in this manner is because Mayoi is a rather 'fixed' character. She is a wandering ghost, and being an 11 year-old who will not age and is not romantically interested in Arararagi (sorry, I've slipped), there is not much room for the author to develop her.
Instead, the author chose to focus on the oldest and most confusing relationship in the series, which I must say, proved to be a masterstroke. Readers are rewarded with peeks into the inside thoughts of Shinobu during the incident, scenarios of what would have happened should Araragi not had found Shinobu when she went on the disappearing act in Bakemonogatari, and how much Shinobu has changed from the Kizumonogatari.
However, all these are nothing as compared to the revelation of Araragi's importance in Shinobu/Kiss-shot's heart, which is way more than what I could have ever imagined. Her (current) heavy psychological dependence on Araragi had in my opinion, beautified the unique relationship they both share - two person, both slaves and masters of each other, linked together mentally, and inseparable until either one of them dies. It just makes me love her character so much more than before. Of course, Araragi, being gentle no matter how dense he is (in a rather hilarious and good way though), lent strength in the relationship by pledging to die with Shinobu together, and accepting Shinobu whole-heartedly.
Their bonds were so strong and so important to their current selves that even in the face of crisis, they both chose to face it together as Araragi and Shinobu, instead of going the path of master and slave, Kiss-shot and full-vampire Araragi (which essentially guarantees victory), by allowing Shinobu to suck all of Araragi's blood. To me, this scene summarizes their relationship wonderfully. And all these happens in Kabukimonogatari. Imagine the treat we are in for when Onimonogatari is actually released. Hopefully, Nisio Isin will actually touch on the romantic interest Shinobu held for Araragi, and her possible turmoil by seeing him with Senjougahara. I can't wait.
Of course, there's a few other points to look out for in the novel aside from the relationship development which I had been raving about. We are being graciously treated with fanservice scenes of Shinobu and loli-Hanekawa (which I will kill to have it animated). There's also a brief introduction of a new character, Oshino Meme's niece, who attends the same school as Araragi, though the importance of her character is yet to be seen. Then there is the usual trolling of Nisio Isin, as we still do not get to see any interaction between Araragi and Senjougahara.
All in all, this is another solid addition to the series that should please all Shinobu fans, although at the cost of Hachikuji. The next book should be Hanamonogatari, which is Kanbaru's story. It's time-frame should be in tandem with Nekomonogatari, so hopefully it will provide a conclusive end to Kanbaru's rainy devil arm, as well as new development in Araragi and Shinobu, both suggested from Hanekawa's viewpoint in Nekomonogatari.
Views
10864
Comments
0
Comments
Trackbacks