Abandoned blog, since I am working on LN translations now.
Light Novel: Nekomonogatari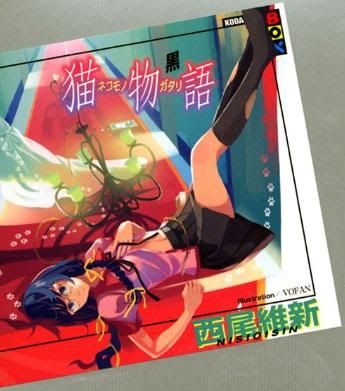 The latest books to come under Nisio Isin's monogatari series, Nekomonogatari continues after Nisemonogatari, and focuses on Hanekawa.
Nekomonogatari comes in 2 parts - Black and White. Well, to correct what I've said earlier, continuing after Nisemonogatari is not exactly right. (Black) is told from Araragi's viewpoint, and recollects the very first incident of Hanekawa's Bakeneko and her/its awakening.
White continues after Nisemonogatari, and interestingly is told from Hanekawa's (and Bakeneko's) point of view. The writing style is slightly different, and it showcase Hanekawa's personality very well.
What's interesting about these novels is that it is quite different from the usual monogatari series I've come to expect. The wordplays and tsukkomi are a lot lesser than usual, and in place we get a lot more insights into the thoughts and feelings of Hanekawa, which is a treat. It's without a doubt that Nekomonogatari (White) is one of the best works the monogatari series have to offer till now.
Within the course of (White), Araragi is engaged into some other stuff that seem to involve Kanbaru and Hachikuji, so I think we'll get to see that in the next novel or so, from Araragi's point of view. Also, despite having the recent books focusing on the pervert Araragi is, he is actually really manly in (White), although the scene is rather short. I guess that is what makes Araragi so well-liked by many readers. His humor, perverseness and gentleness really makes him a very enjoyable character to read.
Of course, that is not all Nekomonogatari has to offer. We are also given many interesting tidbits as well (along with more incidents of Koyomi touching and groping Tsukihi's breast).
The Araragi sisters are confirmed to be bro-cons, with both of them having boyfriends that, when asked by Hanekawa what sort of person they are, both sisters unanimously replied with "someone very similar to onii-chan". Tsukihi also got quite a bit of exposure (figuratively and literally) in the 2 novels, with her removing her Kimono down to her lingerie while she was chatting with Koyomi on the subject of the the colors of lingerie. Getting to like her more and more really.
Hitagi surprisingly confessed to Hanekawa for being a Dad-con, saying that she'll get excited if she slept in her Dad's blankets with his smell, which is hilarious. Hitagi is on really good terms with Hanekawa, and still occasionally reveals her slightly abusing and teasing nature when Koyomi is not around. It is also implied that she is on poor terms with the Araragi sisters, which is rather amusing. Another interesting thing to note is that during her confession to Koyomi, she was pretty sure Koyomi liked Hanekawa, but despite that she planned to get Koyomi to agree to date with her at all cost. I approve, but at the same time I can't help but wonder what she would do if Koyomi rejected her.
(Black) also shows a little of Koyomi's relationship with Shinobu post Kise and pre Nise, which is neglected during Bakemonogatari. Looks like Shinobu didn't really hate Koyomi as much as he thought back then.
Of course, Nisio Isin added in the usual trolling. Despite the rather generous amount of Hitagi, there is not a single scene of her interacting with Koyomi in (White), which is rather rage inducing. There is also little scenes involving both Kanbaru and Nadeko (and to an extent Hachikuji), although that is to be expected since Hanekawa isn't exactly on really good terms with both of them.
All in all, Nekomonogatari is a really solid addition to the monogatari series, which leads me to wonder if Nisio Isin will repeat what he did and narrate the other stories from the characters' point of view. But from the line-up, it seems unlikely, as there are none other 2-part titles announced.
Views
5750
Comments
2
Comments
Trackbacks