Pancit - Filipino Party Food
Growing up in the Philippines meant that I got to experience my favorite part of a given culture firsthand: the food. Whenever there's a party or a fiesta or something, there would ALWAYS bee a mountain of food for waiting guests -- it was tradition. And the hosts would always make sure there was enough food for all, because the general rule for inviting someone over is that you can expect them to bring two or three guests, which is fine, as Filipinos love to mingle. And because there was so much extra food, friends would be sent home with plates full of the left overs, a tradition which carries over to Filipinos living in America too (so if there's a Filipino party at your house and you really want a certain food there, make sure you get some or set some aside for yourself, because chances are, there won't be any left afterwards!).
Of course, at a Filipino party, you can't go without one of the most traditional party foods: Pancit. Made with tasty strands of long rice vermicelli noodles to represent long life, pancit is easy too cook, tastes great, and is nice and filling. Thankfully, it's also not very expensive to make, and doesn't take very long to make.
This recipe is meant for smaller amounts, when you want to make some for a family meal or a snack for friends.
Note: You will NEED a Wok for this. Preferably a big one. When I asked my mom how to make this, her first question was "Do you have a big wok?"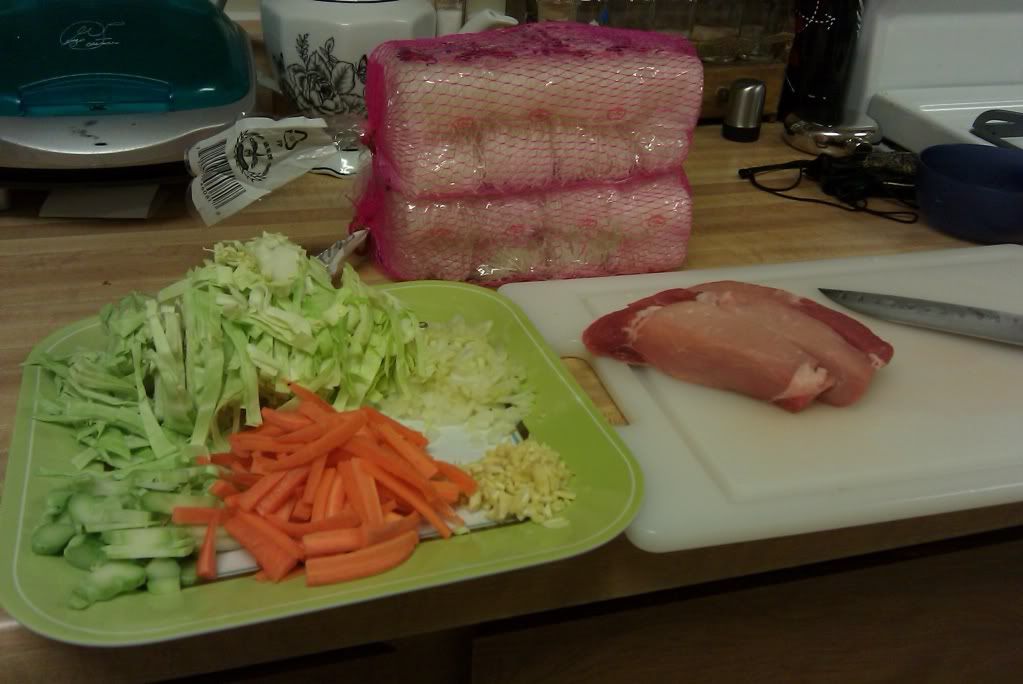 Ingredients:
- Rice Vermicelli, 1 packet (8-10 oz)
- Garlic, 2-4 cloves depending on taste
- 1/2 of a small onion
- Soy Sauce
- Cooking oil, about 2 tablespoons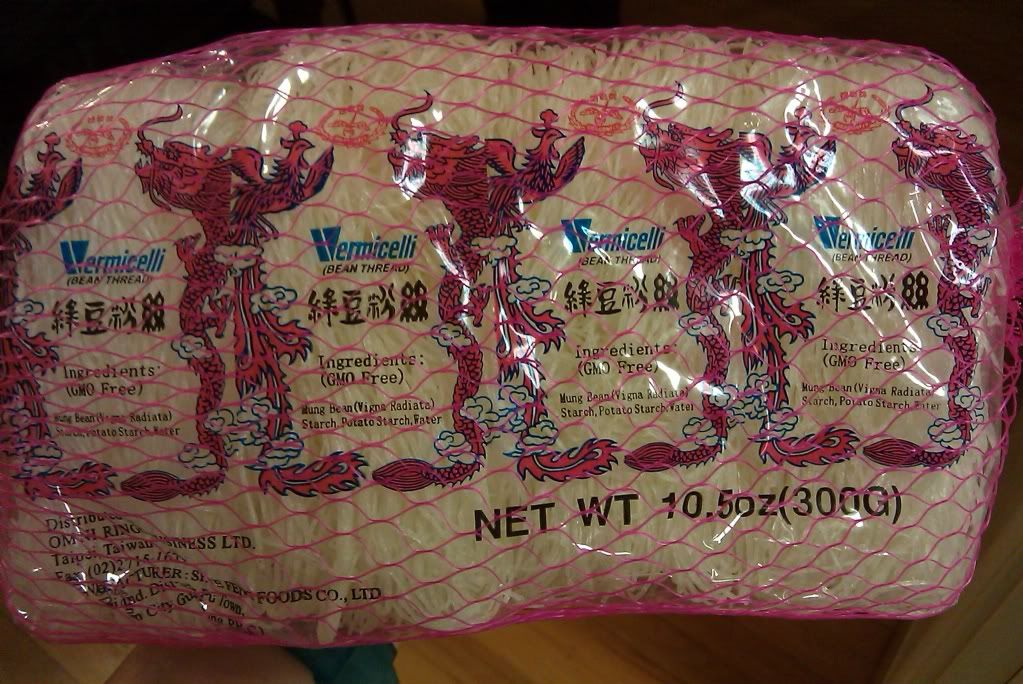 Meat:
- 1/2 lbs Pork, cut into bite size pieces
- 1/2 lbs chicken, cubed (I recommend Boneless skinless thighs, they have more flavor than breasts)
- You can also add things such as shrimp, fried tofu cubes, or ground pork/chicken. I know people who garnish with wedges of boiled egg.
Vegetables
- 2 Carrots
- 1/2 a head of Cabbage
- Broccoli (I just use stalks, because they hold up better to the stirring)
- 1 cup sugar snaps (optional)
- Pretty much whatever vegetables you want really. My cousin puts red bell peppers, my mom puts celery. It's all about preference.

Directions:

Preparation
1. Soak your noodles in lukewarm water. They need to soak for about 10-20 minutes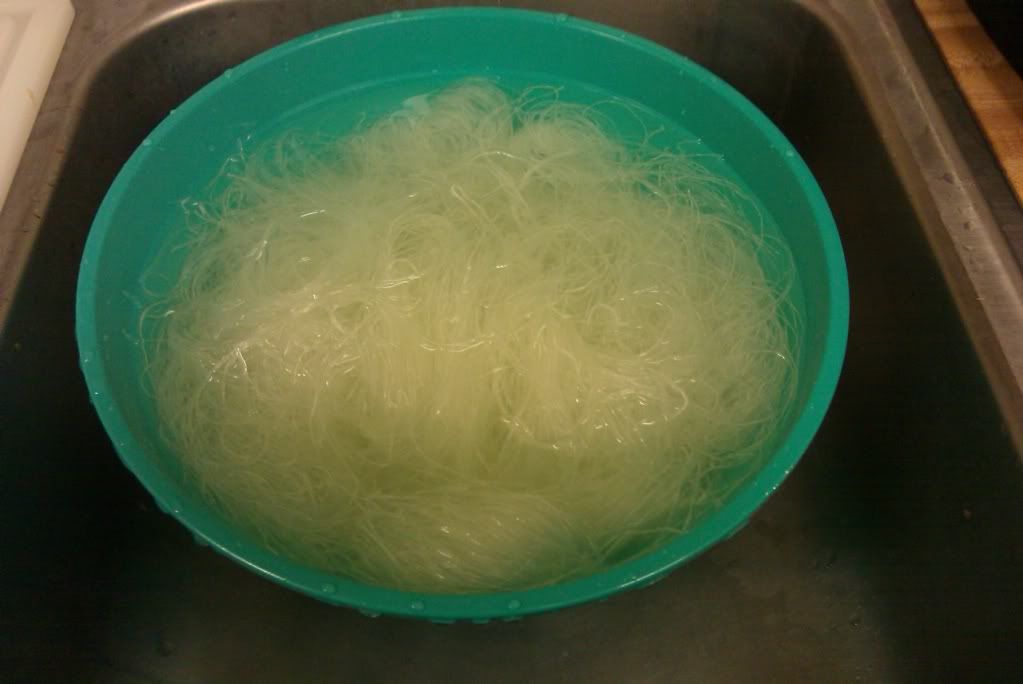 2. Start prep on your veggies. Wash them and cut them if need be.
- Carrots are usually cut in small sticks
- Cabbage needs to be shredded
- Broccoli stalks need to be sliced. If they are too wide, then cut them accordingly.
3. Mince Garlic and onion. Set aside.
4. Prepare your meat. I do this last so I don't contaminate the raw vegetables that are going back in the fridge, as I sadly only have one good knife.
Cooking:
5. On medium heat, heat your wok and add the oil. Toss in the Garlic and fry until it starts getting brown, then add the onion.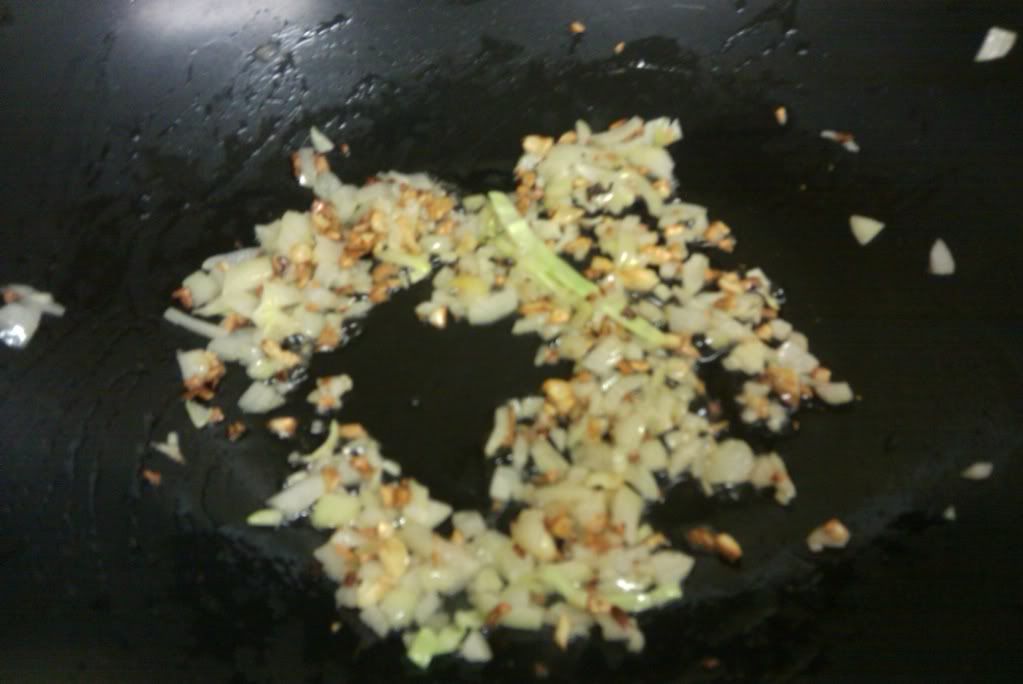 6. Add the meat and cook until no pink shows. Add some soy sauce and cook for a little longer, until done.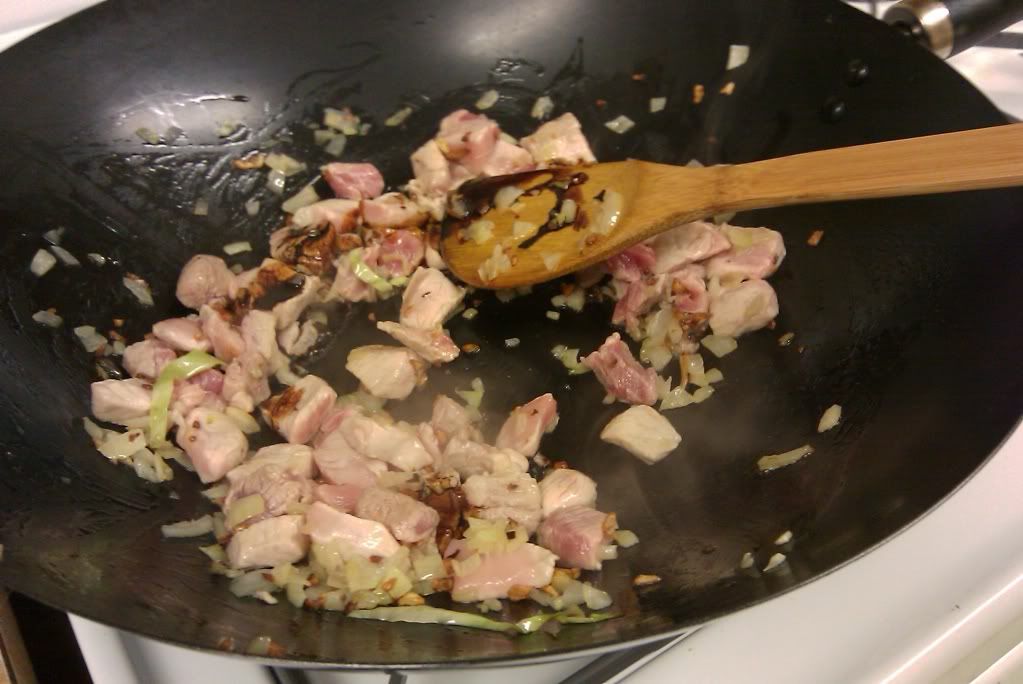 7. Remove the meat from the wok. Set aside and put the cabbage in. Add a little soy sauce and cook for about 2-3 minutes. Add the rest of the veggies and cook for a few more minutes, until done.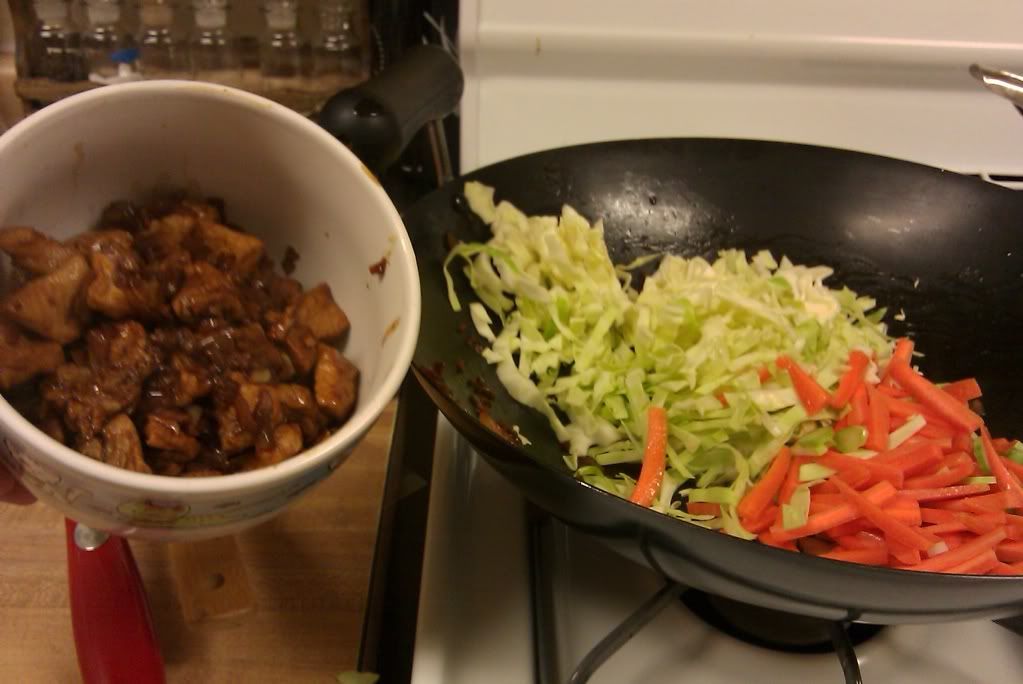 note: I have a lid on them to help keep the steam in to cook the cabbage faster. This is not necessary, but I wanted to cook it faster because I had people waiting.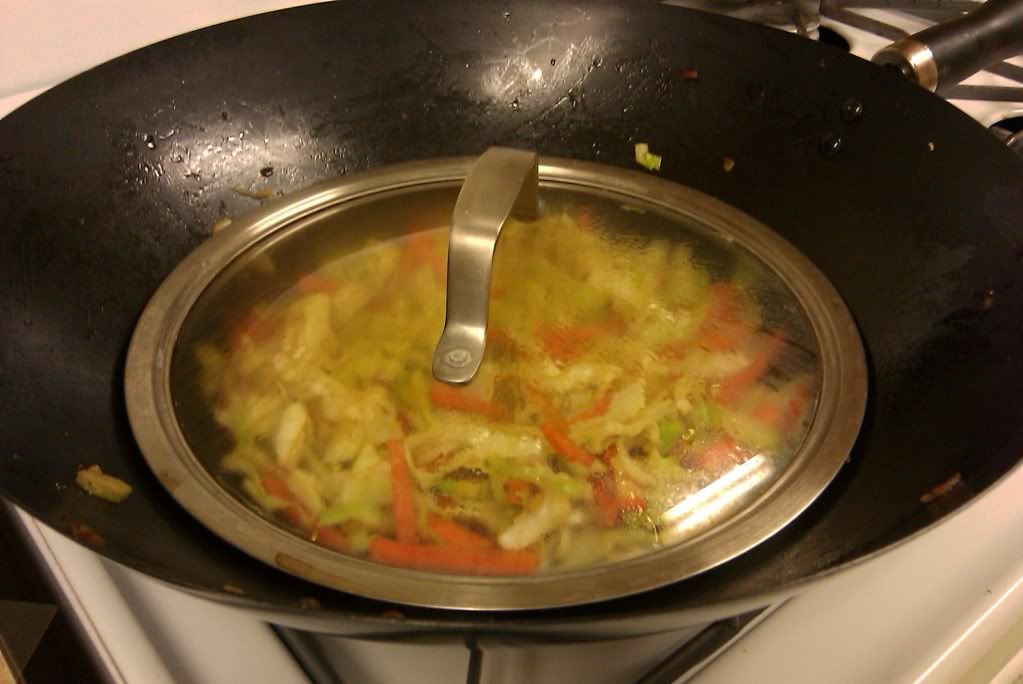 8. Remove the Vegetables and set aside. Return the meat and all it's juices to the wok. drain your noodles and add them. Don't worry about draining them super super well, the extra water will help it cook. Add a little soy sauce.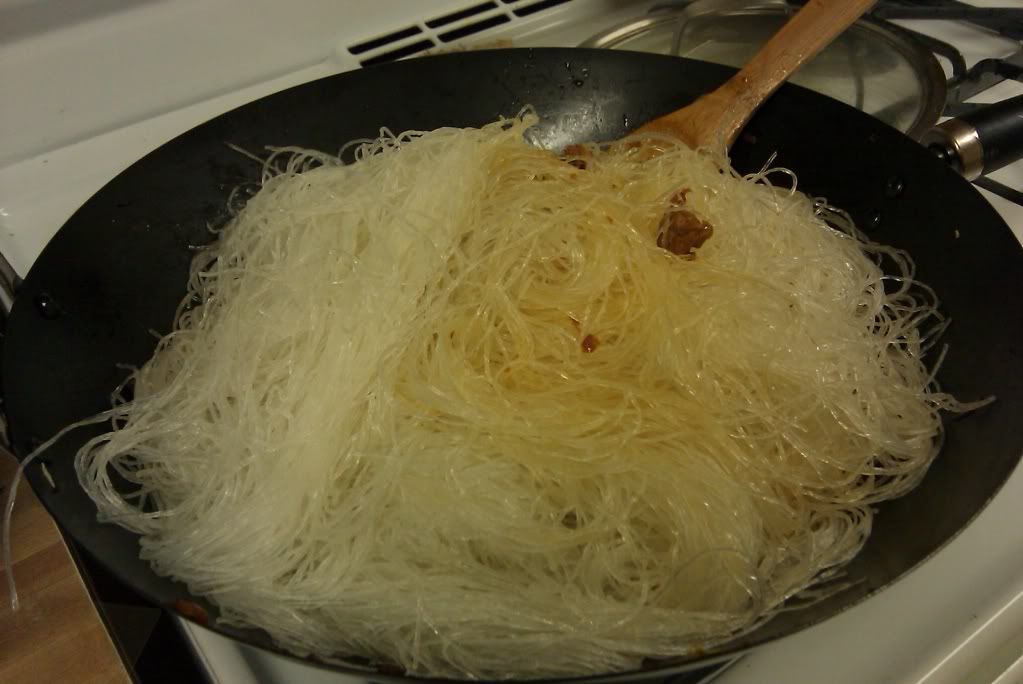 9. Stir it well while cooking...well, I guess tossing is more correct. If you don't want the noodles to cook onto the sides of the pan.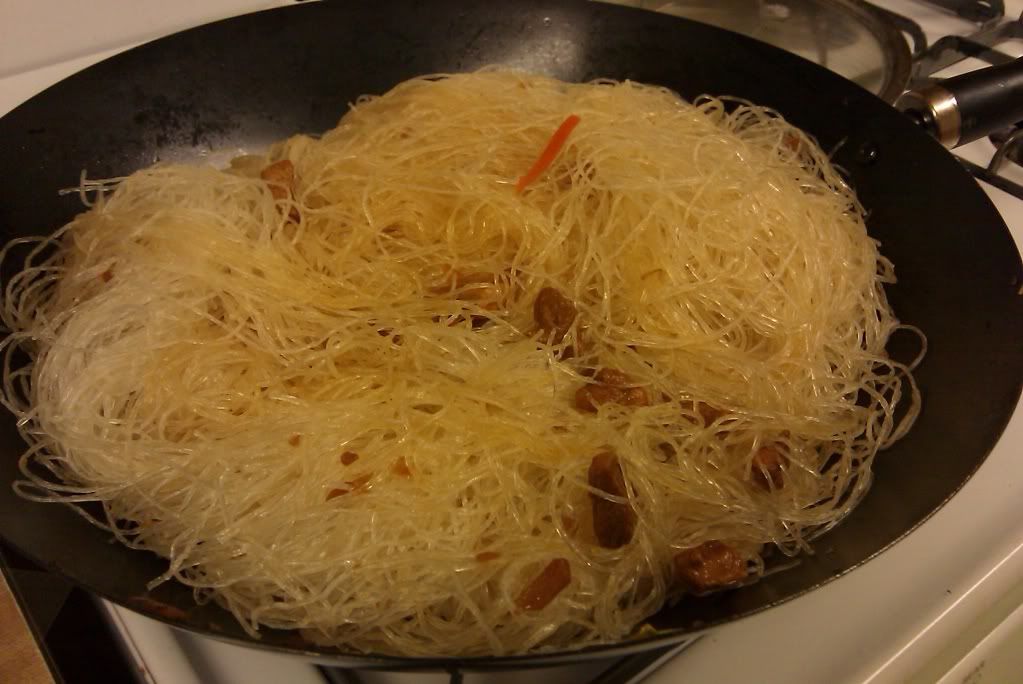 Note: I added more noodles than normal because I had to cook for a bunch of very hungry Military boys. And they love their starch. It got to where it was hard to stir and the noodles were cooking weird, like some of them were cooking faster than other because they were near the bottom where the meat juices and sauce gathered. if this happens, adding more water helps it cook fine, but don't add too much, just a little at a time.
10. Toss the veggies back in and stir them in. Turn off the heat, serve, and enjoy.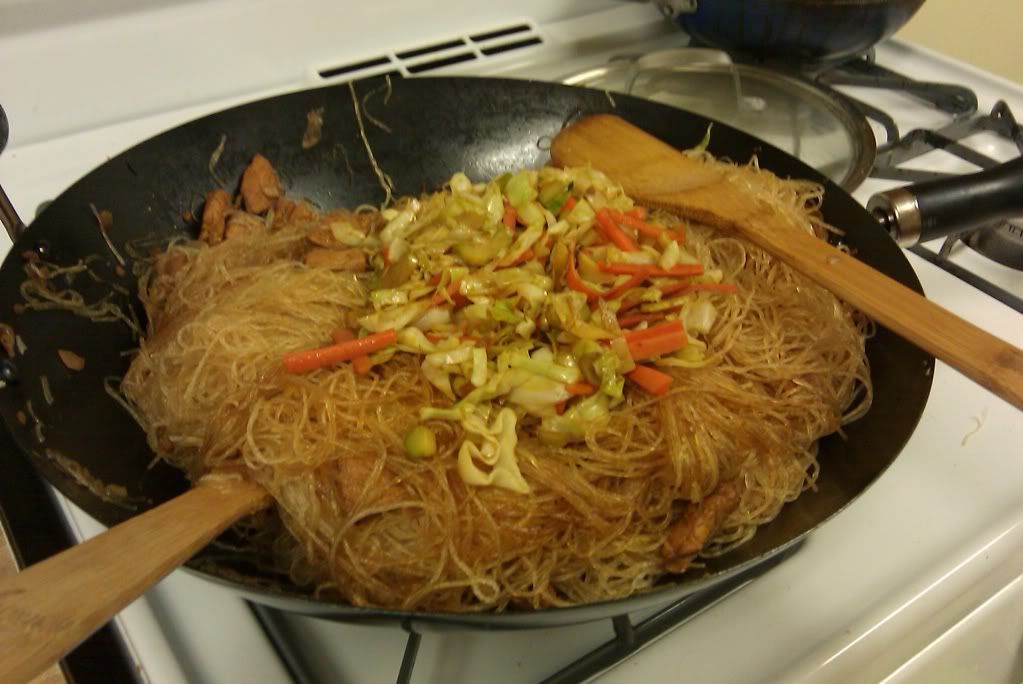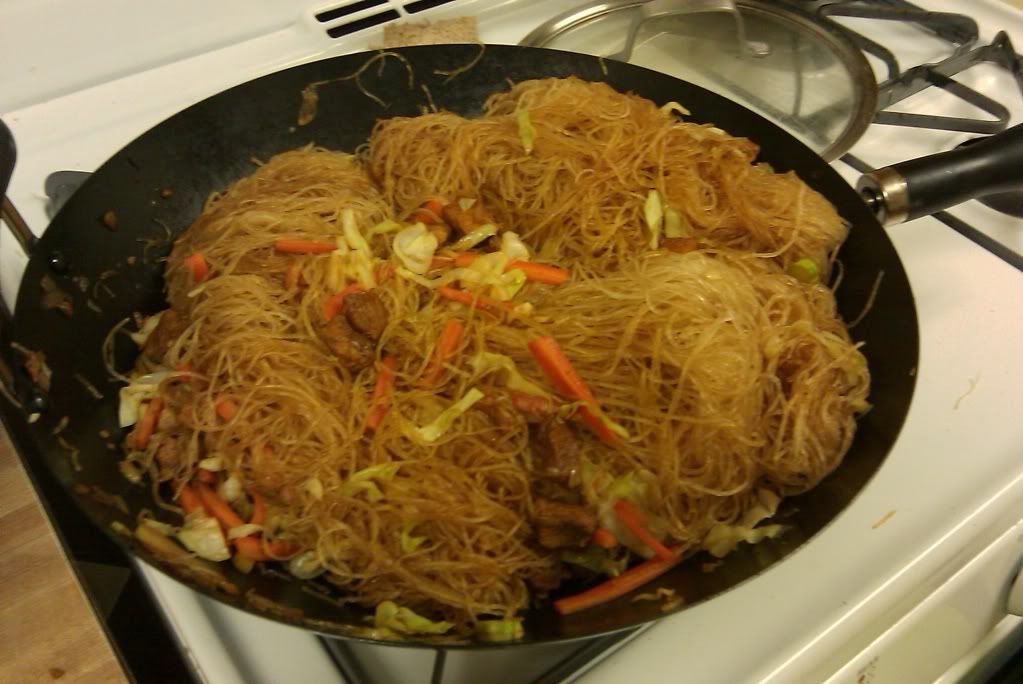 Views
4443
Comments
5
Comments
Trackbacks