CLANNAD ~After Story~ - 20
Posted 02-27-2009 at 08:13 PM by
Kotarou
~The Tidal Breeze's Mischief~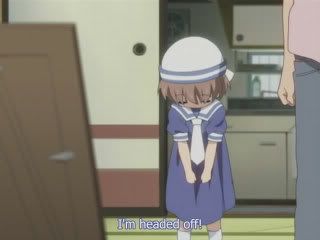 So cute~
Tomoya catches up on missing out being a father for the past 5 years.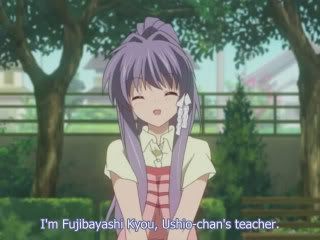 Dere Mode FULL POWER!
The morning begins and Tomoya brings Ushio to her kindergarten, only to be greeted by a gigantic wild boar. It is none other than Botan (aka Nabe), who is the kindergarten's pet.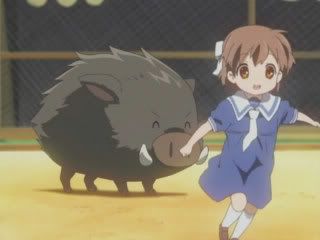 Run away, Ushio! OM NOM NOM
Tomoya then runs into Kyou, who now is able to switch easily between politeness and sarcasm, lol. Kyou catches up with Tomoya and learns that he is pretty much still the same person he used to be, now that he's recovered Ushio.
While alone at home, Ushio takes a stroll outside and ends up near the new Hikarizaka General Hospital. Later that night, Ushio asks her father to sing Nagisa's song - Dango Daikazoku. Tomoya reminisces about Nagisa...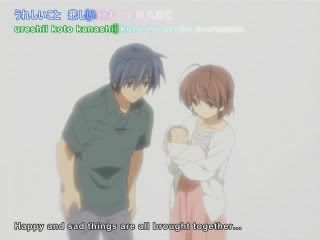 The Family that should have Been.
The following day, Fuuko drops by for a visit, and once again, tries valiantly to make Ushio her little sister (with much objection from Tomoya). They spend the day together making jokes, and having Fuuko annoy the crap out of Tomoya again.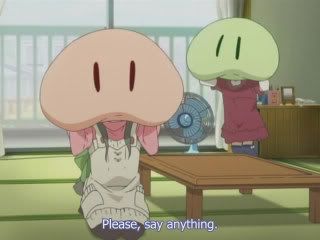 Dango Dai--!!
A few days later, Ushio once again wanders outside to go visit the hospital she likes, and runs into Fuuko. Fuuko asks the same question Nagisa says in the very first episode: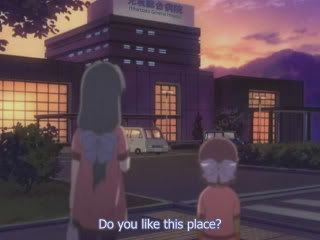 "Kono Basho... Suki desuka?"
Later, Tomoya gets an invite to join the athletic meet for the kindergarten. It's the Faculty vs. the Parents team, and just so happens Akio is the anchor for the Faculty (because the president has a "back pain"), and Tomoya got forced to become the anchor for the Parents.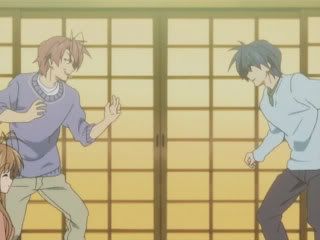 FURUKAWA FIGHTER IV
However, on the night before the meet, Ushio stumbles clumsily into the room, and is caught by Tomoya just before she falls... and Tomoya finds out she has a fever...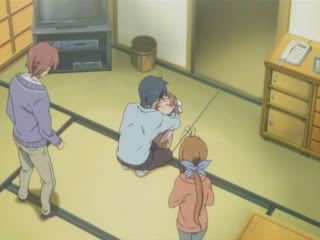 ~TBC~
Loved this episode, having Kyou back, and then, Fuuko piling on the extra moe cuteness! Though, the ending of the episode looks to be a bad sign... not to mention the PV for the next episode.
HIGH POINT OF EPISODE: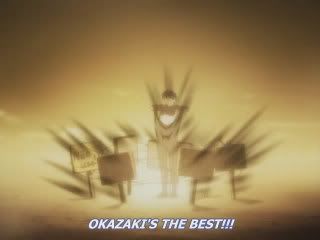 MY PANTS IS A PANTS THAT PIERCES THE HEAVENS!!!
Views
3168
Comments
2
Comments
Posted 02-28-2009 at 05:17 AM by

OnnaDesu

Posted 03-01-2009 at 09:54 PM by

Hiratori
Trackbacks