CLANNAD ~After Story~ - 14
-A New Family-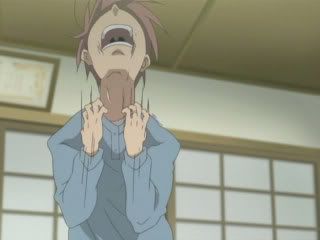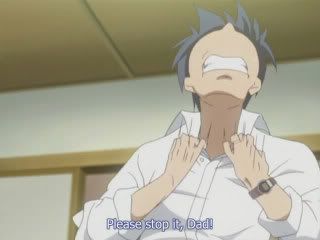 I CAN SCRATCH BETTER THAN JUU
Episode 14 picks off from 13's end by having Nagisa and Tomoya have dinner with Akio and Sanae - at which point Tomoya points out that he should call pops "Dad". It causes Akio to go into a scratching fit and demands he stop, else he calls Tomoya "Son". Tomoya reacts in the same way, and they comically try to deny their new relationship.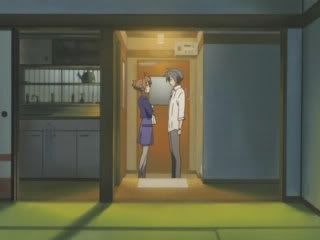 Back at the house, Tomoya and Nagisa get comfy with each other and take vows to forever be with each other's side (and not crying except in happiness, etc.) Tomoya lets his wife take the first bath, and is a little nervous having her in there, and audible. Later at night, Nagisa requests that they hold hands.
Soon, Nagisa decides to look for a job, and gets lucky when Nishina and Sugisaka call her in to help work at a family restaurant as a waitress. Tomoya has his misgivings at first, but finally relents.
A few days later, Tomoya and Nagisa talk together at night, and he mentions the white orbs of light that Yukine talked about once upon a time. He thinks that there might be one hovering about since they are happy right now, and that anyone who could get one of these orbs could make a wish.
Tomoya then asks Nagisa if she had a wish, and she says that she would really like a:-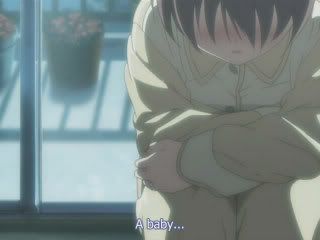 You can't buy that with money.
Later, on a hot day, Tomoya visits Akio, at which point he promply disguises himself as-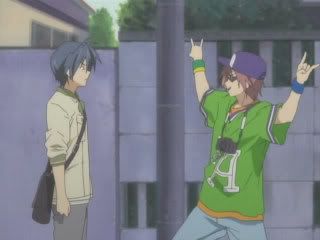 MC AKIO in da HOUSE
Akio wants to take some pictures of Nagisa at the workplace. Tomoya points out he'd get busted instantly, but Akio waves him aside. As they finally reach the restaurant, Tomoya realizes that the landscape is changing...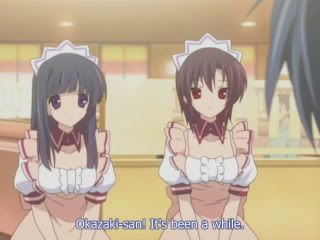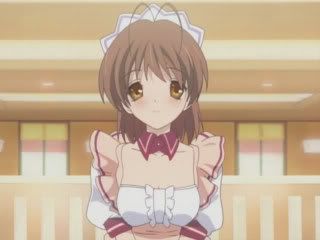 Personally I like the long haired on--*shot*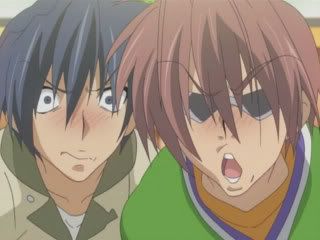 YES I AGREE
Nishina and Sugisaka greet them as they enter, and they let Nagisa serve them. Nagisa, being as innocent as ever, fails to recognize her own father. MC Akio proceeds to take pictures of her, but is quickly stopped by Tomoya. Tomoya orders a small cup of tea for himself, and a gigantic ice cream sundae for Akio (who promptly complains). I bet that "imouto" wouldn't mind, though, heh.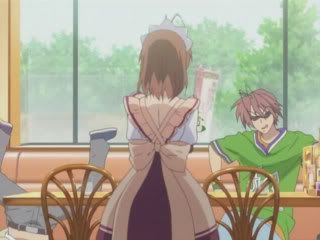 How many times has he fallen on his head now?
Nagisa gets too pretty for her own good, and attracts the stares of many males in the restaurants. As Nishina and Sugisaka talk to Tomoya, a couple of youths try to hit on Nagisa, who says "No!" to their advances;- prompting Akio and Tomoya to stomp into action.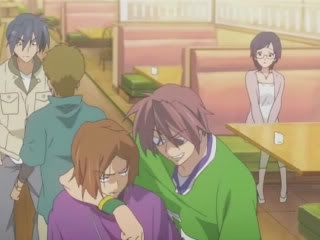 Yo, Yo, BROZZA! LONG TIME NO SEE!
They manage to chase the youths away. Nagisa calls them both and says the manager wants to talk to them;- at which point MC Akio makes a hasty retreat. Tomoya tells Nagisa to pretend that they're not married, but immediately gets busted by the manager.
The Manager is kindly and tells Tomoya that his wife is working very hard, and has turned down many people who have tried to hit on her by herself. Tomoya thanks the Manager, and hopes he can bear with her.
Later at night, Tomoya and Nagisa have a chat, and Nagisa remembers that the old school block will be torn down to build new classrooms for the students. Tomoya, angered by this change, reacts violently, because that was where he had spent time with his beloved. To have that torn away for good was awful. Nagisa comforts Tomoya and apologizes, while Tomoya says it wasn't her fault anyway. Tomoya realizes that everything around him is gradually changing...
Soon after, Tomoya visits the Furukawas again, due to Nagisa wishing to consult Sanae about something. Akio proudly shows his loot of Nagisa-photos to Tomoya, when there is a loud sound from the toilet.
Tomoya and Akio sprint there, only to find out that Nagisa is now pregnant. When Akio comically questions how she got the baby, Nagisa shamelessly(maybe not.) admits that she and Tomoya did "ecchi things" ;3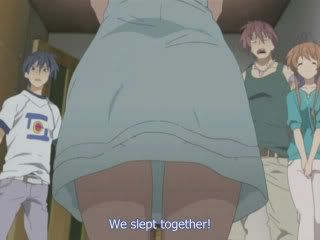 BOMBSHELL ANNOUNCEMENT #3
TBC.
Thoughts:
Wow, just one episode ago, they got married, and now, Nagisa's pregnant!
Loved the comical aspects in this episode, especially the epic MC AKIO, and "WE DID ECCHI THINGS TOGETHER" confession by Nagisa. Seriously, do girls actually say things like that to their parents? *chuckles*
The After Story is well underway to reaching it's midway point, and as a person who's played the Visual Novel, can't really bear to see what will happen in the next few episodes. I fear us viewers will need some Kleenex in the next 2 episodes. ;_; NAGISSAAAAAAAAAAAAAA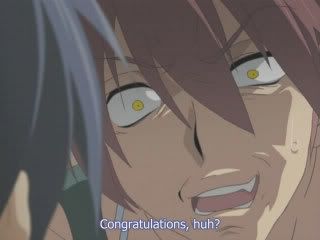 Have some Akio.
-owari-
Views
3154
Comments
4
Comments
Trackbacks