CLANNAD ~After Story~ - 13
Posted 01-09-2009 at 03:56 PM by
Kotarou
-Graduation-
Summary: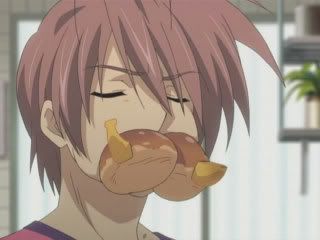 OM NOM NOM NOM
The episode begins with Tomoya wanting to tell Akio something important;- however, Akio is messing around as usual, and almost runs off (after Sanae) again, but is stopped by Tomoya. He wants to discuss something serious with him, but to Akio, "serious" means baseball.
Tomoya agrees to the baseball match - Akio will pitch, and Tomoya must, no matter what, hit the ball (as long it's a not a lame hit) - and Akio will listen to what he has to say. Tomoya then adds that Akio will have to agree to what he says as well.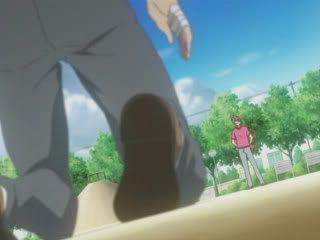 Defeat...
Unfortunately, Tomoya loses to Akio's superior pitching skills, and Akio marches off smugly. Tomoya laments the fact that he failed due to such a trivial matter. Sanae comes up to him and tells him to try his best, because Akio is such a person. Tomoya agrees to do his best for Nagisa.
During break at worktimes, and in heavy, pouring rain, Tomoya practices swinging the bat. Again he challenges Akio, but again, and again, he loses. Refusing to give up, he continues practicing, with Nagisa watching him, and finally, Akio gives him one last chance:- which he takes, and manages to hit the ball.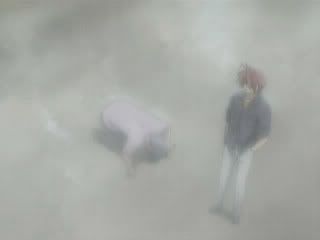 Please! I beg of you!
Tomoya immediately runs over to Akio and asks that he let him take care of Nagisa. After a short silence, Akio agrees, but says he'll beat the crap out of him if he ever made Nagisa hurt. Tomoya and Nagisa are overjoyed, and Sanae wish them well.
Winter comes, and soon, it is Nagisa's birthday again. Since she is now 21, she is eligible to drink sake, which she does for the "sake of her father". After one shot, she immediately gets drunk and gets "lovey dovey" with Tomoya, even to go so far as accuse him of having an interest in her mother, LOL. Sanae teases him further by questioning their relationship.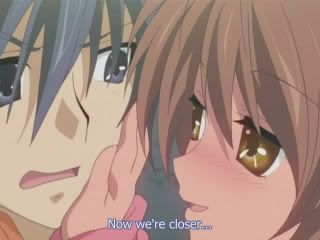 Uaaaah...!!
Soon after, Nagisa falls ill again, but this time, her attendance record is much better, and may graduate. She misses the official graduation ceremony - Tomoya decides to call up a few old friends and surprise Nagisa. One day, Tomoya takes Nagisa out, back to the school, and there, everyone is waiting for her to arrive to begin her "graduation ceremony".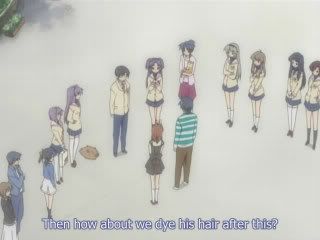 It simply ain't Sunohara without the blond...
Nagisa receives her diploma, and thanks everyone who has helped her along the way at school:- and that she loves the school very, very much.
Then, Tomoya and Nagisa register their marriage, and informs Tomoya's father, who wishes them well. Tomoya is still indifferent, refusing to look his father in the eye. Outside, the new couple look forward to their new life together...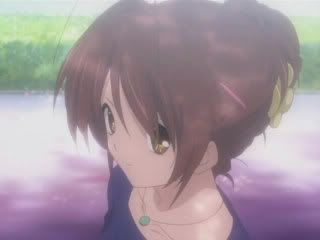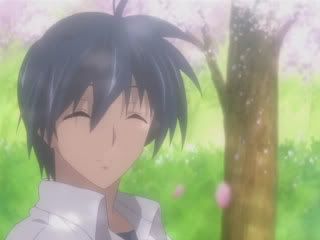 Okazaki Nagisa.
TBC.
Thoughts:
Finally, the fated couple are married! I think this is probably one of the first anime where the story still continues after the main characters get hitched, ehehe. This episode pulls quite a few heartstrings here, showing the perseverance of Tomoya to get approval from Akio, and later, the power of friendship. Also, Nagisa getting drunk this episode was particularly funny.
IMO, Nagisa's change of hairstyle made her look a lot more mature...
It looks like Tomoya will have a whole lot of issues to contend with now that they're living together (such as listening to Nagisa squeal in her new bath).
Views
1315
Comments
1
Comments
Trackbacks