Galaxy Angel (Game) Part 1
TODAY ON ABSOLUTELY RANDOM GAMES:
Galaxy Angel
PEW PEW
Have you watched a certain whacked anime waaaaay back in the early 2000s, called Galaxy Angel? Yes? It had an absolutely random plot, and sometimes involved the main characters in that anime getting killed/blownup/transformed/etc, and had a rocket AI in a robot plushie. Of all things.
You're probably wondering why I'm playing a game with the exact same name, almost the same cast, and almost the same premise as the anime, no? No fear - that's where the similarities end. In the Galaxy Angel game (and manga!), randomness is few and far between - and the game actually has a plot!
You play as Tact, commander of the Galaxy Angels. Tact is very happy go lucky, and out of sheer cheek and "amazing analytical skill", he always manages to come out with the perfect plans and battle strategies to overcome his opponents. However, he is still a man at heart, and you'll have to guide his hand in caring for
one of
the girls.
GA plays as part-visual-novel, and part-realtime-pewpew-strategy. During the visual novel parts, you guide Tact around the Elsior, and interact with her crew. Depending on the outcome of your conversations with the crew (the girls, actually), their battle performance increases or decreases. A sad/angry Angel will perform poorly in battle (misses often, unable to dodge effectively, etc.), while a happy one (especially your 'girlfriend') will probably decimate the battlefield by her lonesome.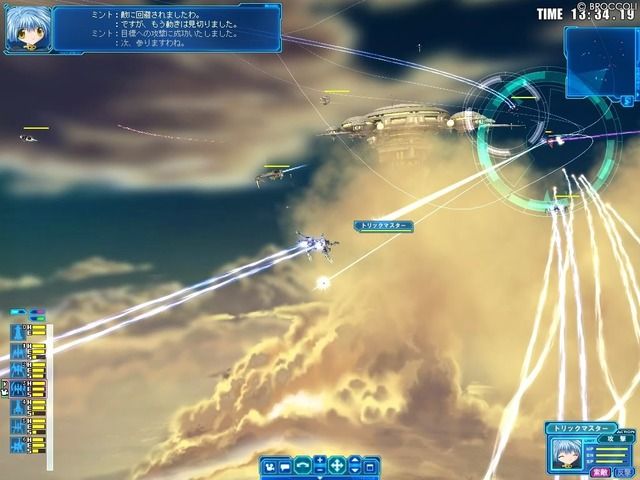 The real challenge of the game, of course, is the battles. Each battle usually has your flagship, the Elsior, and the five (later six) angels. The Elsior does have its own onboard weapons, but lets face it - they're crap. To actually destroy anything, you need to depend on your angels to do the job.
You can view the battle from two fronts - a top-down map, or a trailing camera which shows the battle in all its visual glory. Each of the angels have their own set of attacks and specials, but they all have the same parameters - Health, Energy and Specials. HP is self-explainatory, Energy is your remaining weapon stock AND fuel, Special is a gauge for BIG FUN. Energy is pretty important - it depletes as your angels shoot stuff down, and also when they travel. To replenish Health and Energy, you need to redirect an Angel back to the Elsior. The Special gauge charges up as the Angel takes hits and damages enemies. The more an Angel likes Tact, the faster it will charge.
To be continued...
Views
4716
Comments
2
Comments
Posted 03-27-2010 at 05:17 PM by

Kotarou
Trackbacks