Mayoi Neko Overrun! - Ch03
"Rich Girl Overrun!?"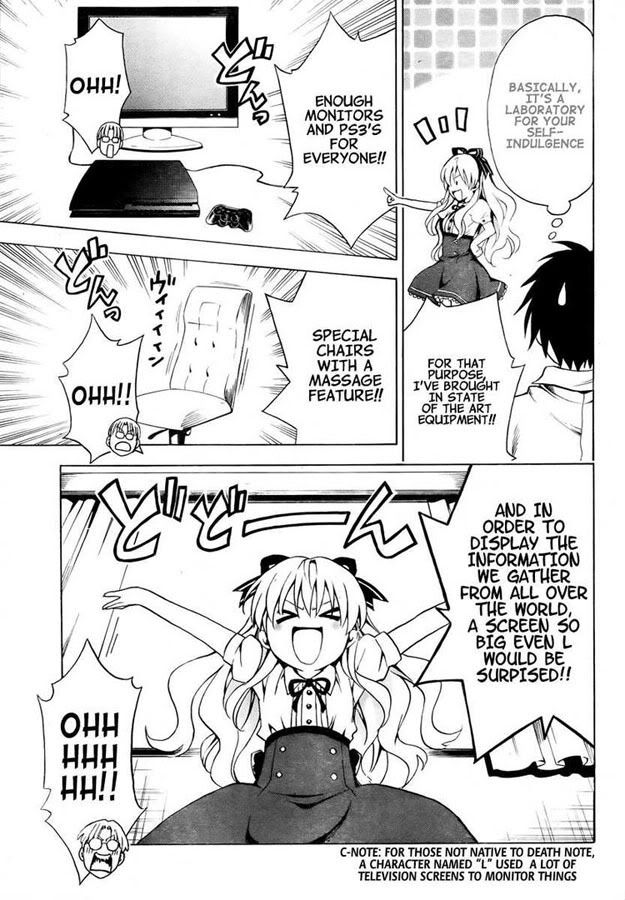 You can overrun me any time.
Chise Umenomori, anime-watching, filthy rich, ronery ojousama seeks attention from her slave, Takumi (and everyone else in particular). In her haste to surround herself with people, she buys all the bread from the shop just so that the gang wouldn't have any work to do and so they could hang out with her all the time.
Takumi soon points this out and doesn't want to sell any more bread to Chise (YOU BORKED LOLI HEART U BAS-), and she angrily (heartbroken-ly) retreats, only to be blocked by Fumino. Fumino tells Chise to try making her own cake, and to understand the feelings of the people who sell them.
***
Kentaro strikes yet again with the 3rd installment of Overrun!, with much, much, needed and appreciated fanservice. See if you can spot the To Love Ru cameo (again).
WANT!
Owari~
Credits to CXC for a job well done on the scanlations!
Views
2670
Comments
0
Comments
Trackbacks