Tsukiyo no Fromage - 06
"The Two's Promise"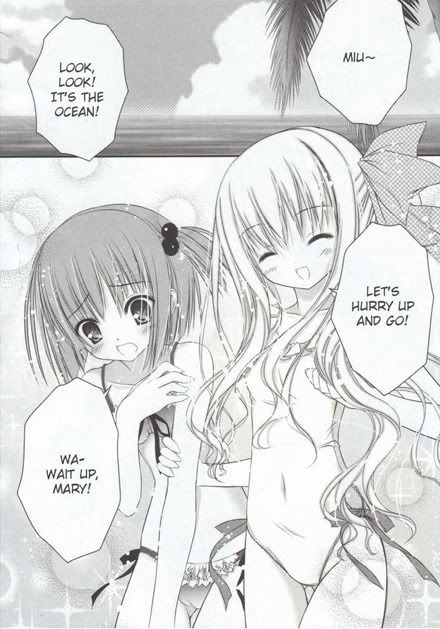 Bikini! Swimsuit!

The three go to the beach to provide you with much needed high quality Tinkle fanservice. Miu is worried about her(his) two-piece, and thinks that the bottom half just might fall off if she goes swimming! Mary tries to get Miu to swim, but Miu quickly excuses herself by saying she doesn't know how to swim.
Mary gives up for the moment and goes off by herself, while Miu lies in the shade, pondering about her body (lucky bas-).
MOE~~~!!
Fiyu shows up (with drinks!) and then asks if she'd like to take a walk with her round the beach. Miu immediately agrees (ANYTHING FOR FIYU-SAMA) and they walk off, leaving poor Mary slightly confused, and she herself sets out to look for them.
In the meantime, Fiyu asks Miu about her world's beaches, and Miu tells her about the "night view". Fiyu says that she'd like to see it someday, and Miu suggests that they both see it together. Mary walks in on them talking, and hears what Miu says, and feels jealous. Fiyu then spots Miu, and asks if she'd like to take a walk with them too - and she says she'd rather swim, and runs off.
Did I say moe? Yes I did.
It rains at night, and Miu chides Mary for being late because she swam too much. Fiyu leaves the room to clean the dishes, while Mary is saddened that Miu has forgotten her promise.
Outside, someone with a scythe shows up...
Impressions: Finally, Sakinobashi releases chapter 6! And yup, if there's a moe fix needed, Fromage delivers once again.

OWARI~
Views
2626
Comments
0
Comments
Trackbacks