The World God Only Knows - 61-62
Posted 09-11-2009 at 05:17 AM by
Kotarou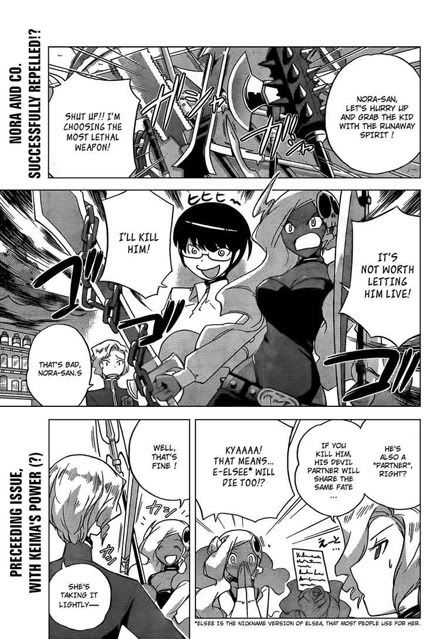 FURY OF THE BAW
Nora, extremely peeved about the outcome of her previous encounter with Keima, plots to completely eradicate him from the face of the earth via a multitude of deadly weapons. Ryou points out, however, that if Keima dies, so will Elsea. Nora pretends to fret for "Elsee", and then proceeds to say that in order to capture an escaped spirit, she will do "everything she can".
In the meantime, Elsea, Tenri, Alternate Tenri and Keima plot on how to save themselves. Elsea has temporarily used decoys for Keima to lure Nora away (LOL WHERE'S WALLY?). Keima suggests to Elsea to get another escaped spirit so Nora can go hunt for that one, and not hound him and Tenri instead. Elsea decides to go ask Hakua, and while Alternate Tenri bugs Tenri to chin up and take advantage of the situation, the rest of the decoys suddenly burst, and Nora bashes in on them.
Alternate Tenri takes over and flees from the scene, and Tenri takes them to an auditorium, where underneath, lurks a cave... which reminds Keima of his old memories...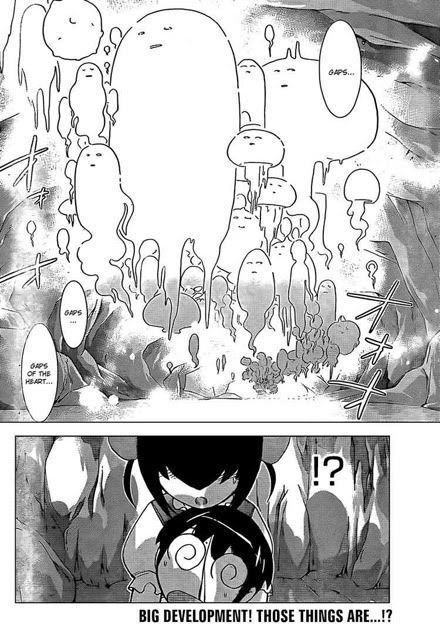 So that's where they came from.
Impressions: Holy crap, is that a Game Gear, LOL KEIMA. And he carries not one, not two, but EIGHT portable gaming consoles, in addition to a HUNDRED batteries.
GG KEIMA GG
Views
2679
Comments
2
Comments
Posted 09-11-2009 at 08:57 PM by

Kotarou
Trackbacks