Minami-ke Okaeri Episode 1
Hey, Noperative here! This is my first time here on the Anime MMOG (AnimeFTW to me) so I won't be going too ambitious and covering some super popular series.
The anime I'll be covering is the 3rd season of the Minami-ke series:Minami-ke Okaeri. Now I'm assuming you haven't seen the previous seasons, so I'll give a basic summary.
The story can easily be googled, but here it is anyway...
Front to back: Chiaki, Kana, Haruka.
It's basically a slice of life about 3 sisters: Chiaki, Kana and Haruka in order of youngest to oldest. Chiaki is your average cynical, old-head-on-young-shoulders loli. Kana is an idiot, to put it simply. She's energetic, reckless and quite stupid, and (like Chiaki likes to refer to her as,) an idiot. Haruka is my waifu, well not really. He's the oldest of the 3, is a level-headed, smart, athletic and she's good at housework too. She's also pretty, definitely the ideal waifu .
There are quite a few side-characters, and you'll get to know all of them very well as they play important roles in most of the jokes.
Episode Summary:
The story of Minami-ke is essentially just a bunch of funny scenarios strung together in a mostly chronological fashion, this episode contains about 4 of these scenarios. Explaining the jokes isn't really funny, so I won't go too much into detail and have you watch it yourself.
#1:
This is a little visit to the shrine on New Years, people relatively familiar with Japanese culture will understand it a bit more. Basically they'll be going to the shrine to pray for good luck and try some
Omikuji
. Of course they'll be dressing up in some cute kimonos, though they're not as hot as I was hoping (Haruka..).
At the shrine, they meet one of Chiaki's schoolmates, Uchida.
Hi there, Uchida.
Unknown to them, Hosaka-senpai (
My comrade
Haruka's stalker) is also there, though you barely see him.
As we can tell above, Uchida spent all her money, so she borrows some money from Kana for her Omikuji. She draws a 'great luck' at romance and promptly brags that her 'prince' will appear at anytime, all the way back the the Minami's apartment (apparently it's a favorite hang-out spot of most of the characters in the story.) After bragging, she anxiously awaits her 'prince' to come through the Minami's living room door (like I said, not by much). Somehow, someone actually comes through the door... Fujioka.
He's a lot hotter this season.
Uchida is disappointed but this is quickly remedied by Chiaki, who reminds Kana of her 100 yen debt. She tries to run, but Kana hunts her down mercilessly and forces her to pay up. Seems like Uchida is unlucky at both romance and money.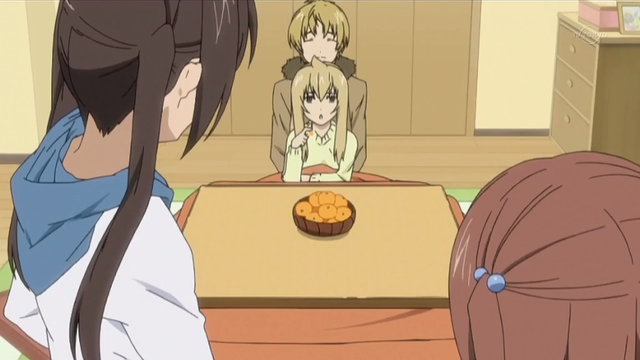 Expensive Fujioka furniture is expensive.
OP
Love the new OP: "Keikenchi Soku Joujou↑↑" by the seiyuus for the Minami sisters. Definitely better than the crappy one we had last season, and probably better than the 1st season's as well. Legally downloading it on my ipod.
What, new character? I approve.
#2:
This skit is a bit hard to explain, as it gives away most of the joke and I don't really get it myself. It's about cup yakisoba and stuff. Weird, but funny though, so I recommend you see this one yourself. Basically Chiaki's trying to explain a concept (Cup-Yakisoba Phenomenon) to Touma Minami, her un-related brother that she took in randomly.
OBJECTION!
You also get to see Takeru, the Minami's sisters' depressing, love-troubled uncle that always ends up at their place.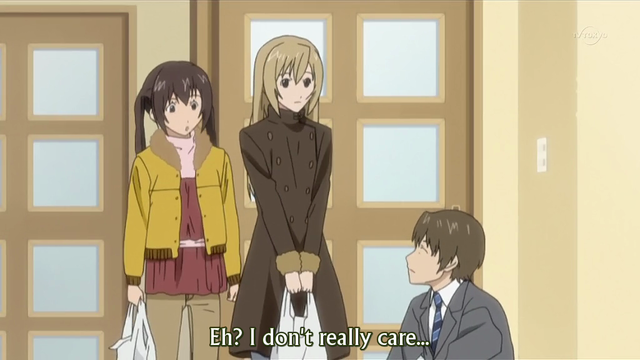 Story of Takeru's life.
#3:
This is a little jab at Chiaki's loli-ness. Her *single* school nurse goes to the Minami residence (again? x_x) to consult with her guardian. Seems like Takeru's still depressed and is still moping around the house so he decides to act as her guardian. The conversation changes for the funnier(?) as Takeru and the-nurse-whose-name-I-have-already-forgotten get off-topic and begin to talk pleasantly. Kana, in the background, refers this as a
O-miai
. More complications happen when Fujiioka decides to randomly
stalk Kana
show up. He also gets off to a good start with Ms Nurse, much to Takeru's *insert funny emotion here*.
Chiaki: Are you trying to create a harem?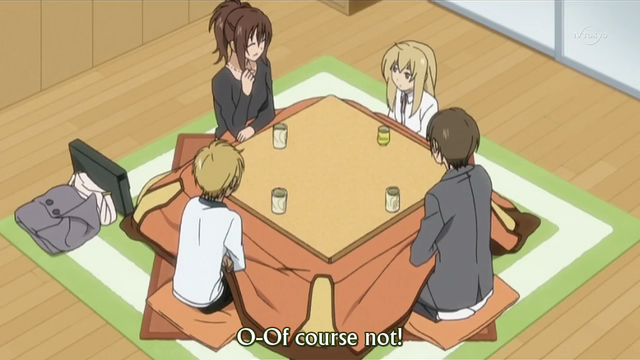 Finally back on topic, Nurse begins to talk about things such as Chiaki's eating habits and how she's falling behind compared to the other girls..*hint hint* Naturally Chiaki turns immature and reacts quite cutely.

ED
WHAT, IT'S ENDING ALREADY?????
Haha, well it turns out that they're putting the ED up early this season, there's still another skit after this. It's fine though, the ED is just as well received as the the OP. "Zettai Colorful Sengen" also by the seiyuus: Satou Rina(Haruka), Inoue Marina(Kana) and Chihara Minori(Chiaki).
WAGGLE THAT
AHOGE
MORE, CHIAKI.
#4:
The final skit is pretty hilarious. Chiaki lost her stuffed bear (also named Fujioka) and Takeru offers to find it for her. What does he do? He whips out his pen and puts it straight on the table, then he lets go and tells Chiaki it's in the direction the pen is facing. The pen points to the kitchen so Chiaki goes there and:
GG KANA.
Haruka also asks a question, which will lead to discovering Kana's guilt. Kana's question is the best, however. She asks for it to find her cool future husband. This time, the pen doesn't fall down and sticks straight up only to have Kana knock it down in skepticism.
I guess my husband's in heaven.
Then the doorbell rings and Kana goes to open it. The pen is pointing towards the door. And guess what? It's Fujioka! Naturally, Kana doesn't understand. Boy are those 2 a great couple.
Back to Hosaka, he's still at the shrine trying to draw the fortune that will give him good romance luck. He's gonna be there everyday until he gets one, apparently.
More like he's gonna be chasing her. Good to see that he hasn't lost his habit of stripping while mind-fapping to Haruka.
My Thoughts:
Once again, the studio and art have changed. I've gotten used to this so I don't have a problem adjusting, and the animation is closer to the original so it's a plus. I loved the 1st season and consider it one of the funniest school life animes (Lucky Star isn't funny, there's a better chance of someone laughing at the School Days ending). Unfortunately the 2nd season was so bad I was in /facepalm the whole series. This season seems promising, it'll never get better than the 1st season but it's hella better than the 2nd season.
Right now it seems like they're just trying to get you back in the pace of Minami-ke and trying to get you reacquainted to some of the side characters. This episode was a nice and easy to digest one, and it's even chronologically accurate to the last season.
Looking forward to the next episode (I already have everything torrented)!
Until next time, Noperative off~
Comments
Posted 09-08-2009 at 06:20 PM by

Kotarou
Trackbacks