Shugo Chara! - 44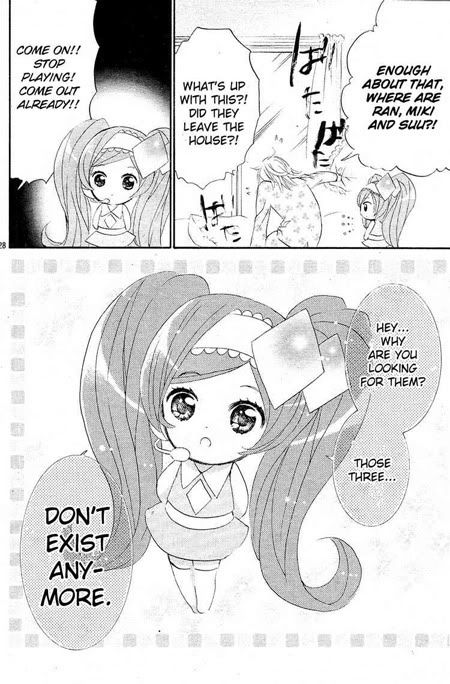 Oh my GOD!? WHAT IS THIS I DON'T EVEN
Spring has come, and now, Amu, Tadase, Rima, Nagihiko and Yaya prepare for their graduation ceremony. Yaya is saddened that she'll be the only one left in the Guardians. Nagihiko also nearly lets slip that he's actually Nadeshiko (earning a nudge from Rima). Amu laughs and reminisces about all the good and bad things they went through to get to this point in time...
Amu helps out at the hall, where Suzuki (the small dude) attempts to give her a love letter (and soundly gets the Cool and Spicy treatment). Amu looks out at the vast hall and also remembers the time where she chara changed and openly confessed her love for Tadase.
Suu then questions Amu if she's a little afraid of change, and she admits that she is. However, she is also excited because she made a promise with Ikuto to find her "would-be self". Later, Tadase approaches Amu and gives her a star-shaped bottle with star-shaped sand inside (aww). Tadase tells her to use the sand on their yearbook pictures, and she happily agrees.
Elsewhere, a certain someone is wandering the streets with a map, looking to meet Amu again...
Later that night, Ran, Miki and Suu's eggs vanish... causing Amu a panic when she wakes the following day! She digs her entire room, only to find Dia's egg rolling out from under her bed. Dia then wakes up (OMG!) and greets Amu. Amu, slightly taken aback, still realizes that her other three eggs are still missing and continues the search when Dia points out that the three girls have vanished.
Dia explains to Amu that just like how Shugo Chara appear, they also disappear. "Nobody knows where they come from, and where they go." Amu starts crying as she thinks of her lost Shugo Chara, as Dia comforts her. She tells Amu that she'll be able to find them again, and that she'll help Amu, as she is her "Navigator to the Future"...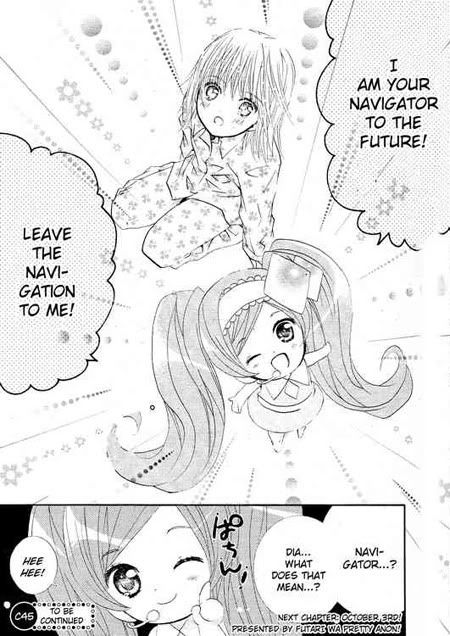 To the future!
Impressions: OH. MY. GOD. Peach-pit just pulled an OMG WHAT THE CRAP JUST HAPPENED!? to one of my favorite manga. How will this manga will progress without Ran, Miki and Suu? WILL AMU ONLY HAVE AMULET DIAMOND NOW? WHAT WILL HAPPEN TO THE "GUARDIANS"?
Damn you for making me wait, Peach-Pit! orz!
Well, I guess its some kind of "change", huh?
Views
4872
Comments
0
Comments
Trackbacks