The World God Only Knows - 60
Posted 08-19-2009 at 07:59 PM by
Kotarou
Alternate Tenri Appear!
Picking up from the cliffhanger, part 4 starts by having Nora kidnap Keima, and immediately sentences him to death by a public execution! Ryou shows up with an invitation card to the execution (signed Nora and "Bald", lol.). Tenri and Elsea immediately head to the destination to stop God from getting killed! Elsewhere, Keima demands an explaination from his captor...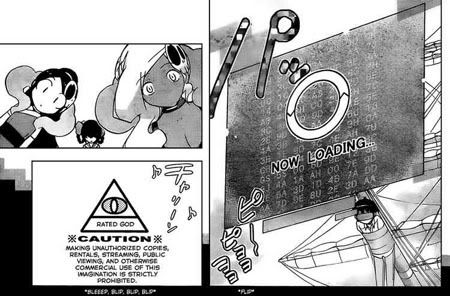 Now with Dolby Digital (tm) Surround Sound.
Tenri and Elsea arrive just in time to stop Nora from executing Keima, and Elsea explains that Keima is her partner, so she can't kill him. Nora shrugs and changes her punishment - she'll just open up his mind for all to see and "Crush his most precious thing!"
However, to Nora's disbelief, Yokkyun (Keima's "Dream Girl") appears, making him salivate with happiness. Tenri happily notes that Keima hasn't changed, and Nora then proceeds to destroy Keima's image of Yokkyun. Keima violently retaliates by screaming LOAD!, breaks free, grabs Nora and demands she apologize immediately (among other lunatic demands). A shocked Nora makes a hasty, embarrassed exit together with her own partner.
Tenri apologizes to Keima for causing him trouble, only to have her alternate take over and request for his help...
Impressions: I can't really relate to Keima's taste in 2D girls, but... LOAD LOAD LOAD LOAD LOAD LOAD LOAD LOAD LOAD LOAD LOAD LOAD LOAD LOAD
OWARI~
Views
2739
Comments
2
Comments
Posted 08-21-2009 at 01:11 AM by

Kotarou
Trackbacks