The World God only Knows - 59
Posted 08-13-2009 at 11:13 PM by
Kotarou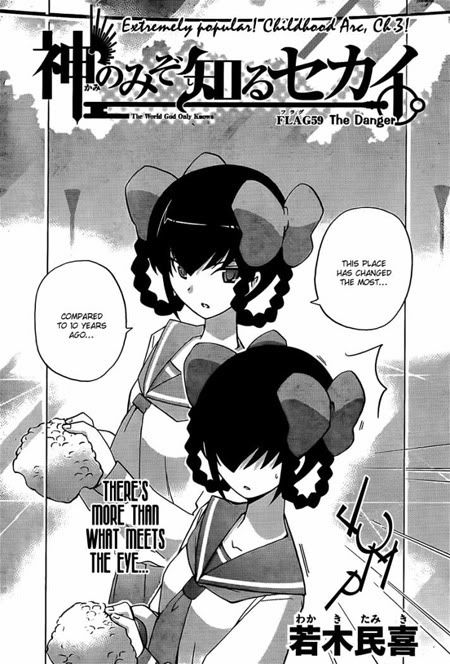 Multiple Personalities ftw!(?)
The third chapter of the childhood friend arc reveals that Tenri is indeed aware of the second personality that hides inside her - and its been happening for a long time already. It first spoke in her head, and then in her reflections, and now is even able to take over her body. The 'other' Tenri chides Tenri about not being able to get close to Keima...
In the meantime, Elsea is still bugging Keima that Tenri indeed has a spirit inside of her - unfortunately, Nora has already been assigned to that particular spirit! Keima is jubilant he doesn't need to do anything this time, but Elsea is worried because Nora is very "forceful".
Elsewhere, Tenri is musing about Keima, when a gentlemanly boy greets her and attempts to get along with her, and he turns out to be Nora's partner. Nora then shows up immediately and quickly "diagnoses" Tenri's problem - that she absolutely HATES Keima (she misunderstood), so now Nora will go and kill him to solve the problem.
Later, Elsea is explaining to Keima about the dangerous (but effective) methods Nora uses, and Keima says that it isn't his problem anymore anyway, when Tenri shows up and says: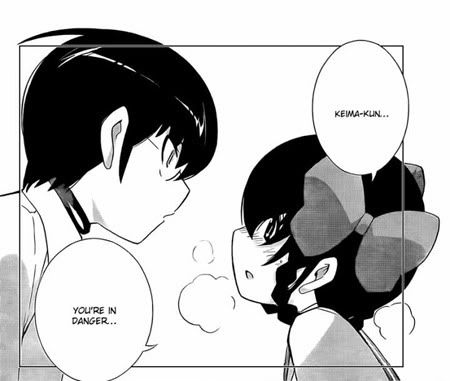 Impressions:
I was expecting Nora to interfere with Elsea's capture, but now that its been assigned to her completely, part 4 looks to be exciting! Keima's gonna have to dodge a lot, if you ask me. Xd
Owari~
Views
2644
Comments
0
Comments
Trackbacks