[Manga] Tsukiyo no Fromage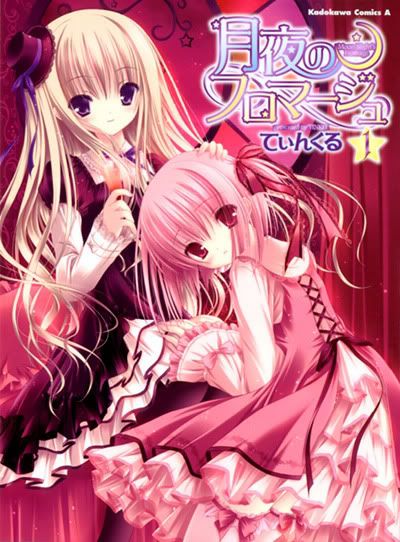 Tsukiyo no Fromage
(Moon Night's Fromage) by talented artist(s), Tinkle, features the tale of Galge player, Hiiragi Miu, who dreams of dating his favorite 2d girl - only to stumble upon another girl who promptly steals his first kiss. He passes out (lol) and soon regains consciousness in an unknown room, with that same girl keeping him company - the only problem is that he's turned into a girl!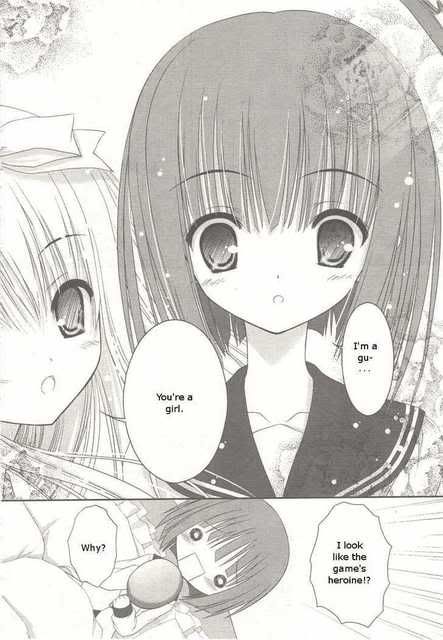 OH SHI-
The girl, Mary, absolutely has no idea about what Miu talks about (his world), but she feels responsible from bringing him(her) to her world, and resolves to find a way to return Miu to his original world. In the meantime, Mary's antics force Miu to dress up in a plethora of very, very, very girly clothes, and also to take a bath (cough). In the meantime, Miu attends school with Mary and meets Fiyu, Mary's childhood friend, who immediately takes a liking to Miu.
However, at night, Miu has more dreams, and a mysterious girl appears to "save" Miu from being kissed by Mary again. Apparently kisses must be some kind of life source for Mary...
Impressions:
Quality gender bender right here. Tinkle's art is right on the spot, banking on the moe factor as much as possible - and throwing in gothic lolita clothes every other frame in the manga. The story is so-so, and I've seen some similar elements in Pita Ten before, so yeah.
The prime reason you'd want to follow this is the insanely cute art, and Mary's continuous egging of Miu to wear more cute stuff (SWIMSUIT CHAPTER LOL).
Owari~
Views
4948
Comments
2
Comments
Posted 07-29-2009 at 10:08 PM by

Kotarou
Trackbacks