Refine bonus my ass
Posted 01-11-2009 at 03:38 AM by
Rydia
Today I got a +6% bonus fortune from Stella. YEP HERE IT IS.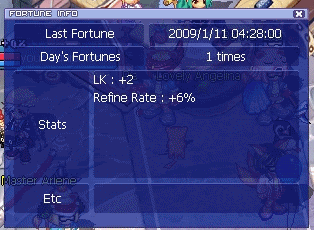 So I thought WOW THAT'S GREAT I can refine my kitty paw!!!! I am lacking a HV weapon.
Anyway...I make my way over to Marx...and this is what it says...
+.18, well what the shit is that?! POINT EIGHTEEN. THATS LIKE NOTHING. Why did they lie and say +6%. >[ Marx is working with Stella to scam us all. They can go to hell.
I refined my kitty paw anyway...it broke TWICE at level one and then again at level three. So yeah, amazing bonus I got there. I hate them.
._.
Comments
Trackbacks