Summer Vacation Dreams
Posted 06-15-2010 at 12:17 AM by
Mums
It's the beginning of the summer vacation, and I've noticed that I get a lot of weird dreams now, so I thought I'd post them. Some are more gross than others, so beware.
Well then. Here's the three dreams I've had so far:
Dream #1
This one contains some degree of grossness.
I don't remember much from this dream BUT I'll tell you what I do remember.
I was at some hiking place, where there also were a stadium. Everyone from school were at that stadium, split up in two groups: Red and Yellow. It was like capture the flag there. We had... I think two or three flags each and we were supposed to take the other groups flags.
And then suddenly it cuts in to the hiking area. This is the gross part. This came up three times, with different people. So there's a group of hikers and suddenly one stops at the middle of the road, pulls his pants down and start to take a HUGE dump, it was red/brown colored in all three cases. The people in the hiking groups just talked like it's nothing special. And in all three cases they started to talk about children's books that are about poop.
Dream #2
This one is mostly gross.
I'm in my old school's sports building. Everyone from my old class is there, and we are seated on stool/chairs that are built into the wall with 1 meter apart.
A girl next to me is complaining about a little wound on her pinky finger by her nail and that something in there is infecting it. You know how annoying those little wounds by the nails can be. I ask her if she wants to borrow my knife to try to get it out (I have a mini Switz knife on my key chain) and she says it's fine, she has her own. She takes up a normal size Switz knife and starts to poke around in it. Suddenly she.. She cut herself down the finger, and then did it again on the other side.
Let me try to draw it for you: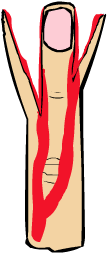 And then I woke up.
Dream #3
This one is mostly weird.
There's a HUGE orange helicopter terrorizing my neighborhood. It has this HUGE helicopter machine gun which shoots... little plastic Pokémon toys, you know, those you get from the Pokémon balls with candy in them.
Anyway, I'm trying to hide from it, I run down the outside stairways to the basement but it sees me and lands on the empty lot next to our house. I dash for the door but it's locked and I'm fumbling with the keys and drop them. Somehow they got behind me and capture me really quickly.
Then there's a part which I don't quite remember about them being higher evolved and there's only one group/species on Earth that's higher evolved than they are bla bla bla they are going to take over Earth bla bla.
(Yea, they are going to shoot Pokémons at people and make them surrender.)
Now we're in my house. The guy in charge says that he doesn't want to hurt us and he shows this by letting us move freely in our own house. I go straight to my room and get one of my knives which I always have on my desk and a sword. I go downstairs again and walks up to the guy in charge and thrust the sword straight through him, and I get:
''Is that how you welcome a guest here? That's not very nice of you.''
As if it's no big deal. And then he just takes it out himself and heals almost instantly.
And then I don't remember any more of the dream.
Views
964
Comments
1
Comments
Posted 06-18-2010 at 07:55 AM by

Sandrie
Trackbacks