Lunatia's Latale; #3 (Lv 30-35) a.k.a. "Screw my old format."
It's getting really boring keeping track and summing up every 10 levels, i can't do that.
Though structure makes it easier reading for the most part, i needs more freedom in my post, sucks having to break my grinding momentum to post an update cause i hit 30 or 40 and all rather than just do it at the end of a day.
Anyways! Now that i got my 2nd rank skills maxed im dying to get 40 and get my new ones.
First i was like "Haha nub my crystal is bigger than yours" then she was like "Wat?" Then i killed her.
I threw down a xp nostrum at ice ladies from 32-33 and 50% or so, then got lazy and wasted 15 minutes of it chatting... turns out the exp sucked and i shoulda been at arcadia all along. But i felt like trying the place since i always ignored Snowfield on ALL of my chars.
I also, (with the help of a invoke killing friend. yay for Sorbet <3) Got to do my scenario at level 33...
All i can say is, other than the nice out fit she has...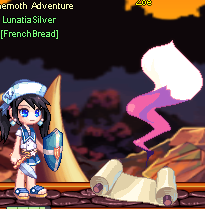 Zoe sucks.
Honestly, it's saying something when a boss can be tanked with a staff wearing mage. xD though i know all too well the rest won't be that easy.
After getting that awesome exp i went to powerlevel on black tigers and got all the way to 35.
The further i get, the more i realize Earth NEEDS to mob to show it's full strength, which makes me glad to have went dagger and shield. I do intend to try out all elements at level 60 though. so keep an eye out for my opinions.

This blog was brought to you by OGP's Pointshop. New Pointshop open, exclusive items available.
Views
824
Comments
0
Comments
Trackbacks