Ibara Developer Interview
by Houseki
translated from arcadia magazine issue#61
Shinobu Yagawa
Arcade Game Development Deptartment Technical Specialist. Oversaw main programming of Ibara. Working for Raizing/8ing in the past, is a leading figure in the world of shooters. This is his first project with Cave.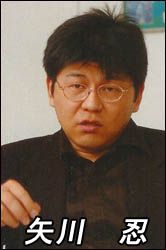 Akira Wakabayashi:
Arcade Game Development Department Designer. Oversaw all graphical aspects of Ibara. One remembers his beautiful and detailed drawings when thinking of Cave's past games, and Ibara is no exception.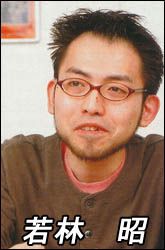 -First, can you tell us what parts of the game you each oversaw?
Yagawa: I was in charge of overall programming. I did almost everything having to do with the game, except for part of the hardware.
Wakabayashi: I was like the organizer of graphics. I was in charge of design directions, and deciding the flavor of the world.
THINGS AIMED FOR IN IBARA
-Does this game feel different compared to Cave's previous games (*1) because the staff involved has changed?
Wakabayashi: In terms of illustrations it hasn't really changed that much. The game itself as well, only having a few changes in programmers, I don't think you can say it's really changed from the development side.
-I see. Well then, with the new staff you've added was there anything different in the production?
Wakabayashi: Yes. Depending on the person, the parts he would've be in charge of might have been completely different. "I was doing this up until now but now you want me to do something else?!" (laughs). Other than that, there's the challenge of making everyone's time well-spent. Because of these things, the players might notice something different.
-What type of concepts are there in regards to performance and the outlook on Ibara's world?
Wakabayashi: Including the "bara" [rose] part of Ibara, we've inlaid lots of pointed objects and sharp tools. For example, we've got tanks that don't have treads, but rather spikes that look like blades on their wheels, clanking against the ground kicking up dust, and propellers that have really sharp edges. We paid careful attention to these parts.
-Where'd you get the idea of the Option System (*2)?
Yagawa: This time what we wanted to try was the idea of "putting something where you want it". Usually with options, the first one is here, then the second one is there. But, since you've got a totally different weapon we wanted to give the player the freedom to attach it wherever they desire.
-What's the purpose of having essentially two bombs. The regular bomb and the energy wave gun*?
Yagawa: The energy wave gun which you fire by holding down the bomb button, is ridiculously strong. We wanted to make it like a 'deadly blow' attack. Actually, with the first boss you can knock him out with one attack, but just doing that... uh... how should I say...?
-That you didn't want to make it where this attack could finish off all the bosses?
Yagawa: No, I think it's fine like that. I wanted to expand the ways you could play and limit the parts you get stuck on. I personally hate parts of games where you run into a really hard boss and can't go any further. With this gun, since it's extremely strong, if you continually fire, you can defeat any boss and go to the next area. Just doing that, you'll run out of bombs in the latter half, but by doing so you can get better at the former half, and it will eventually become unnecessary. If you do that, then you'll make it to the latter half with more bombs, and can get even further. That's how we wanted to make it. Well, I also feel I don't really want to make games that easy either (laughs). I guess it's like once you've gotten used to it, use bombs and destroy more stuff, destroy Parts of the Boss (*3), and just tear him up (laughs)
CHARACTER SECRETS
-Tell us about the concept of the character designs.
Wakabayashi: First, in Ibara, we've made the characters on the boss side stand out. In contrast, we've made the player side characters not really stand out. Also, since with Mushihime-sama (*4) the player character was a girl and the enemy characters were boys, as to not ride on that, we started by making the players boys, and the enemy characters girls of a similar age.
-Ooooh? (Mysterious cheer)
Wakabayashi: Just for the girls (laughs). Professor Teresa is a rose** - sharp and cool, but also a bit monotone. Even in her story setting, we made her rather machine-like... or "cold to the point where she won't let people feel her warmth."
-Were the characters' ages announced?
Wakabayashi: Uh, ages were not released.
-Are they a secret?
Wakabayashi: Yes, a secret. Enjoy imagining their ages yourself (laughs).
-Well then, how about a final word for the players?
Wakabayashi: Well, when you play it, you'll see it's not super easy... This may be rough (laughs) but I want everyone to have fun when they play it. That's the most important.
Yagawa: Hmmm... nothing really here (laughs). I always want to make something that even I myself will enjoy playing.
-And did you do so this time?
Yagawa: Hmm... yeah, I guess you could say that (laughs).
-(Laughs). Thanks for taking time out for us today. (April 2005 Cave Co. Head Office)
Article Notes:
*1: Cave's games: Dodonpachi (1997): Fixated on the idea of "bullet swarms", and has since become the benchmark for other shooter developers. Cave's latest game, Ibara, is not a "swarming shooter", but a "mass destruction shooter".
*2: Option System: In Ibara, the player can select what side of the ship to attach an option to, depending on which side (right, left, or back) catches the option.
*3: Part Destruction: Each boss has multiple parts, and destroying each and every part will result in higher scores. However, destroying each part will make the bosses attacks more intense.
*4: Mushihime-sama (2004): Previous work which appeared on new hardware with beautiful graphics and bullet swarms, and is currently supported by many players. Was also made popular by it's extremely hard Ultra Mode. The main character, Reko-hime, being quite popular, has been made into a figure.
Translator Notes:
*It's actually called the "hadou" gun. Hadou is translated as "wave motion". Yes, that wave motion gun from Starblazers. In all honesty, it's not that uncommon of a word, but I can't bring myself to do it. Actually, the one in that show was that Hadou-hou (cannon) and with Ibara, it literally is gun (in katakana).
**I'm not completely sure, but I think the "roses" are the enemies. He could possibly be referring to the female characters on the 2nd page when he starts talking about using sharp edges and blades, but I think he's referring to the log.
I actually left a sentence out where he was using color to explain Teresa. Until I play the game, I doubt I'll know what he's talking about. If someone can fill me in, please do.
In the story, Teresa mentions making a "rose garden". This is the Japanes term (barazono). Coincidentally the name of their group is Rose Garden (in katakana).
They actually use the word "pretty" instead of "beautiful". It just didn't sound right in English though so I made the switch.
Each enemy profile has exactly one sentence removed, due to linguistic limitation. It is an excellent example of "lost in translation". It basically says how each of the Roses refers to herself in first-person, to give you an idea of her character. For those that have taken a year of Japanese, they are:
Lace: watashi (kanji)
Shasta: watashi (katakana)
Kasumi: watakushi (sort of ellegant)
Midi: boku (usually used by young boys)
Meidi: Meidi (simply put, 3rd person).
Special thanks to feathered wings for scanning and hosting the interview.
Views
1992
Comments
1
Comments
Posted 03-27-2009 at 08:52 AM by

Kakusei
Trackbacks