The Perils of Ren'Py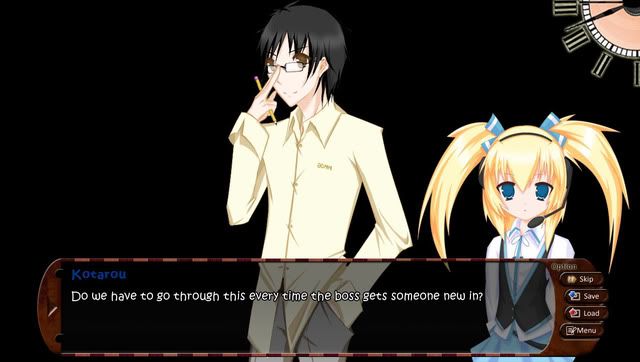 Hi, this is Koko, and since I really don't want to blog about staff related issues (atm), allow me to introduce the aesthetics of my visual novel instead.
The Tale of Elyse
was actually, before this, known as the
MMOG Visual Novel
- and even had a COMPLETELY different storyline and system. The reason I decided to change it was because I didn't want to make ANOTHER run-of-the-mill school based game...
After a short discussion with my friends, I decided to change it to Elyse instead - and also have a FEMALE protagonist take the lead. This also meant that romance stuff went flying out the window, and I did not need to have to get people to draw kissing scenes : > *shot*
ANYWAY, writing the story in Elyse isn't really that easy as most people think - because Ren'Py(my development enginer) is structured in such a way that many things have to be stated before it is run. For example:
Code:
show morning at right with moveinright
$ show_menu_button = True
elyse "'Oh god...I'm late! How could this have happened!?'"
elyse "'Uuuu...I hope I don't get into much trouble...'"
$ show_menu_button = False
scene black with fade
If I didn't type $show_menu_button EVERYTIME before I fade to black, the buttons on the chatbar would ALWAYS show up and would make your game experience really wonky, lol.
Now, imagine I have to do that. A few hundred times for every few hundred lines of code. *shudder*
TBC~
Views
504
Comments
0
Comments
Trackbacks