Talking Vending Machines
So this time I started to tackle Paradise. First off was Officer Robert. He sent me to learn some basic stuff every Trickster needs like Compounding,Mature Compounding and Refining.
While doing the Refining quest I found another Balcksmith in the mines and decided to do his quest as well which resulted with me having quite a lot of ores. After a bit of though I decided to sell them.And yay! they really did sell. I managed to sell several of my gemstones 10k a piece and obtained around 200k to play around with. Other ores didn't sell so well so I just NPCd them.
Well after obtaining my first amount of galders with 5 zeroes I decided to.... invest it =w=. I had gotten a Fiesta ticket while drilling and it seems that reselling PPD is a common way of earning galders. So I got some of them from the source
The source is this vending machine. Quite hi-tech. It's talking and all.
And I must say it is profitable. My investement repaid and I found myself looking at 450k. Still this isn't a source of fast money. They sell but not fast and not that expensive. You could say it's a pretty stable business.
With some money in pocket and a bussiness running I decided that now I can relax and earn a bit of experience as well. Which pretty fast lead me to talking to a dead guy.
Well okay a hologram of a dead guy
Before leaving for the day I decided to do some misc quests. I must say one of the nicest ones are the daily Yuri quests.They reward decent experience and sometimes you can get rings out of their boxes.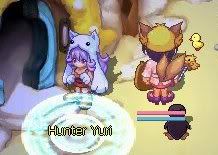 Hai there hunter.
Well then that's that. See you next time =w=/
Views
603
Comments
1
Comments
Trackbacks